Colonial Birdhouse went outside on this Spring-y Day
jeannespines
March 30, 2011
Remember this TS find I showed you in the Fall of the Colonial Birdhouse...well, today it's sunny & so Spring-y outside (tho below normal temps) & I was working on the porch Easter decor...needed to find a permanent home for the bdhse. Here is last yr's pic:
Today it found a home at my "Lily Garden." Well, no lilies in that garden right now ...it's pretty sad lookin' out there...but DH & I added the Colonial Birdhouse anyway! Here it is: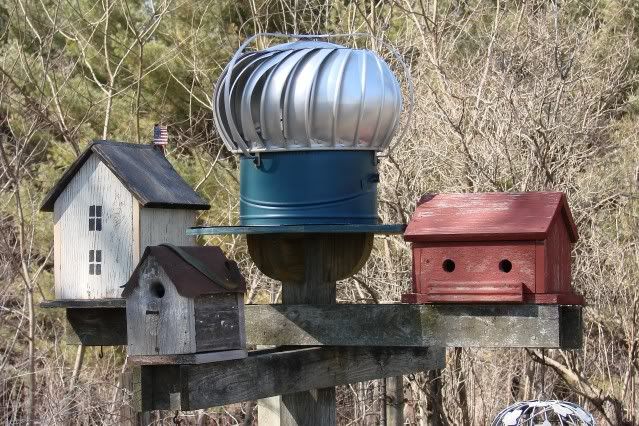 While I've been recuperating this month, DH took a pattern from this birdhse & built a couple more. I'll be painting them soon. His are super, duper...because he built them out of heavy duty barnwood planks! Love 'em...they'll be for Farmer's Market.
So, Spring has sprung here ... & can't help but smile to be outdoors a bit & see more of the purple Crocus out front:
Hope it's a Spring Holiday for you, holiday-ers, too! TFLookin' Jeanne S.