Plan feedback for split-foyer, please!
I've been lurking around on these boards for years but haven't seen many split-foyer floor plans. I currently rent a split-foyer home which is perfect for my occupation (music teacher) but isn't my favorite look. My husband and I are building our first home this spring and after careful consideration we decided that a split-foyer would really be the best plan for us…so I'm trying to get used to the idea permanently.
There are two main reasons why this layout works best for us. I am a harpist and need to be able to easily move a 85+lb instrument in and out of my house with minimal stairs. I also teach lessons so the harp needs to be on the same level as my studio and I'd like that to be on a different level than the main living spaces to keep business and personal as separate as possible. The split-foyer allows me to keep my family life upstairs and business life downstairs.
This is the plan we've decided on. Since it is our first build I welcome any thoughts on it in case I missed something. I redrew our builders plans because the lines were too light to scan in. You won't see the appropriate space for walls but you get the general idea.
The house is 2494 finished square feet and will be on a .28 acre lot. I sacrificed SF for some of the upgrades inside the house, specifically in the master bedroom, master bath, and kitchen.
Would love to hear your thoughts!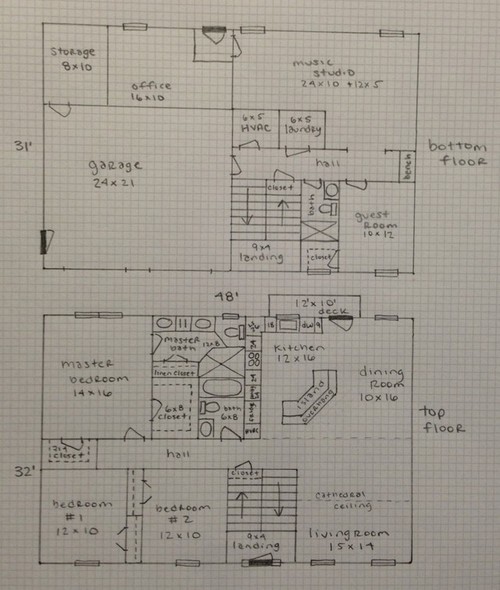 This post was edited by sparkler39 on Tue, Mar 19, 13 at 2:13