Celebrating March & soon to be '1st Day of Spring!' Decor
jeannespines
March 5, 2012
Finished up some Spring decor & getting more 'stuff' organized since losing the divider cupboard at the front door in the living room (my choice when we got new floors).
Celebrating the 1st Day of Spring Month!!! Here's the shelf above the buffet w/old/new framed print ...my heirloom pitcher & an old flower pot I painted long ago & added the ceramic bird:
To celebrate Spring, I added my boy & girl vases that I collect to the left side of the buffet...hopefully this month of March, I will add some RL'Daffodils!'
But for now, I will add some 'tulip' art...I fell in love w/this wall plaque at a TS ...it's like plaster paris or something...I love it & added 2 candleholders that I used for Val decor:
Here's a full view w/Dollbaby, too...I'll add some pics of her tray-scape in another post:
Changed out the oak shelf above the glass doors to the porch in the dining area here:
Left side w/these Ivy planterss I've been collecting for awhile now ...vintage Royal Copley ivy pattern & a TS teapot:
On the right side...another thrift shop teapot & Metlox sugar & creamer: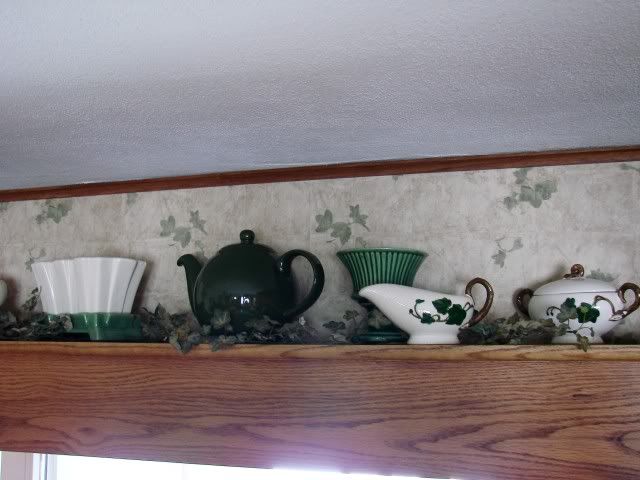 And here's something else I'm trying in the dining room for holiday decor...I fell in love w/this metal framed mirror & hung it on the backside of my cupboard to the dining area:
Here's a closer view ...I planned on using B&W photos here & postcards ...here's a couple pics I printed for St. Pat's Day: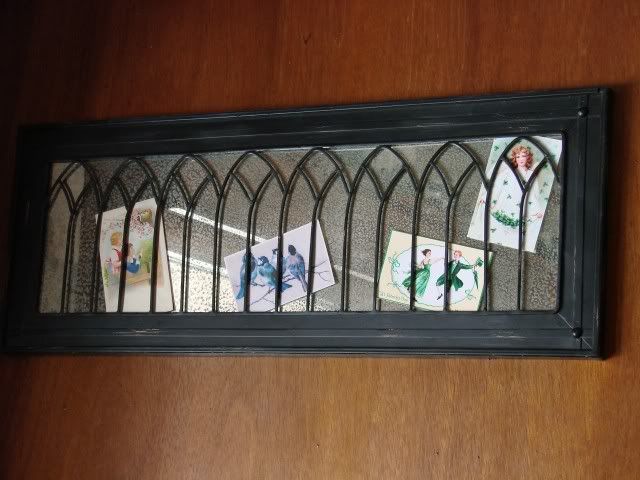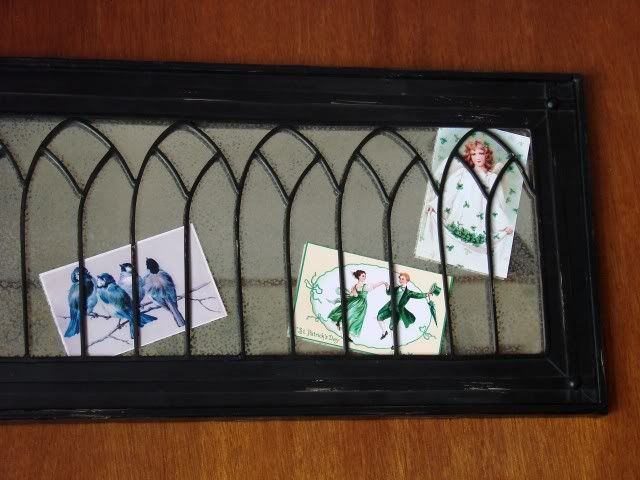 And this is an old postcard I got thrift shopping some time ago...it shouts "SPRING!"
I really would like this cabinet removed & DH & I have been going over that idea...but I HATE to lose anymore cupboard space...that's where so much dinnerware is stored! But it would open up the whole view to the dining area...so I put up what I call 'Mirror Art' for now & that candlestick holder made of some kind of 'yarn spinning' machine parts that I found thrift shopping, too!
TFLookin'...since I'm so pic heavy I'll add Dollbaby in another post. Don't forget, the 1st day of Spring is coming up ...March 20th! Happy Spring! (snow is melting here again after a couple inches yesterday) ;-) Jeanne S.