Spring Centerpc for St. Paddy's Day + More
jeannespines
March 4, 2012
Still working at finding places for 'stuff' & organizing ...but yesterday I started on dining room to change out to Spring decor (altho it's NOT Spring outside yet)...Just a couple more wks til the 1st day of Spring, March 20th! Yay!
Anyway, here's my St. Patrick's Day candle ...printed on that self-stick clear plastic ..the wood bowl is a TS find & I bought the green candle ring last yr at a specialty shop: (I peeled off the Tara's theme from GWTWind candle & saved it on a plastic photo sleeve page):
And lit up last night: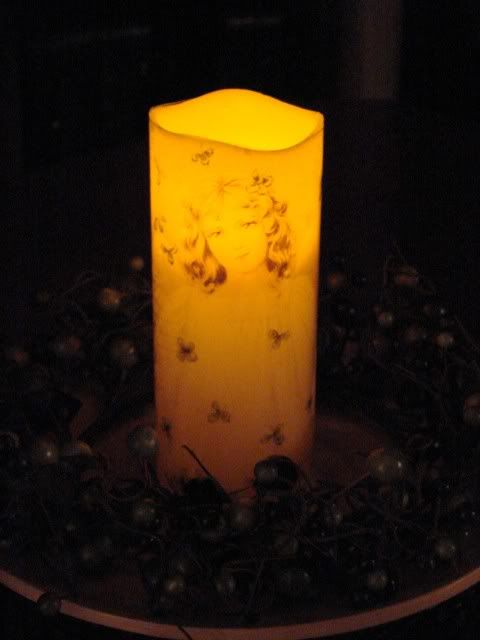 Here's a matted/framed print I'm trying on the buffet shelf...it's pretty big but I loved the print & bought it at a consignment shop before Christmas...Think SPRING!
This is my newest purchase from HLobby ...30% off ...but still a bit pricey ...I've been looking for this luggage style 'end table' since I bought one similiar about 10 yrs ago at a Tues. Morning store. Now I don't have to move the living room one to the dining room everytime I set up the 'Vine tree' for Holiday decor! Plus I got some more storage! Makes me happy!
And that cloche I didn't use at Christmas cause my DH said Santa looked like he was 'caged!' Well, here's my 'Spring girl smelling flowers' ...& that new, beautiful BIG cloche I bought at a specialty shop, too...last yr.
This morning at my table:
TFLookin' ... enjoy your Sunday! Think "Spring!" Jeanne S.