Help with vanity lights
I need help with vanity lights for my master bathroom. This mirror was my grandmothers and I decided to use it in my master bath above a 48" vanity. The mirror is 30.5" wide and almost 50" long. I absolutely love it and will think of her everyday I use it. You can't see all the detail, but I t really is nice. Hand carved, etc.
I was thinking lights on either side at 5.5' off the floor and about 5" from each side.
Also, I think the mirror is currently upside down in the picture. I used it for years, but have since had children and can not remember for the life of me. My dear brother (who took the pic) thinks its the right way due to hardware.
Do you think it matter which way it's hung for the light placement? At ideas for sconces? I saw just like this from Restoration Hardware, but they were a little pricey.
I'll attach my inspiration picture. I'm thinking of a white vanity, maybe gray. Probably just a black top, no movement. Kind of vintage inspired faucet.
Thanks!
Edited to add question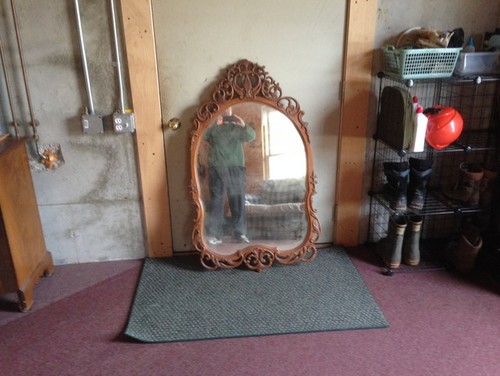 This post was edited by FamCook on Mon, Mar 31, 14 at 18:20