More Val Vignette & Ice Fall Update
jeannespines
February 9, 2011
Good news today from Dr (X-rayed)...no broken bones! This is my 2nd set of X-rays ...1st ones in ER on Fri. night...so want you to know that I'll be good as new soon. Plus I am typing with both hands (somewhat) now...smaller brace, healing good. Thanks for your concerns.
A stop at a TS today w/DH before my appt & I found some good things...will share later but did find this old soft paper book (99 cts) that I added to buffet Val decor I had shared before (original link is added below):
It's titled "Peaches" ...& the back cover is the same print so you can see it in the mirror here:
I think I'm finished tweaking my countertop silver tea set ...so it ended up like this...the light is one of those Scensy that melts candle in top that I got from one of DD for Christmas: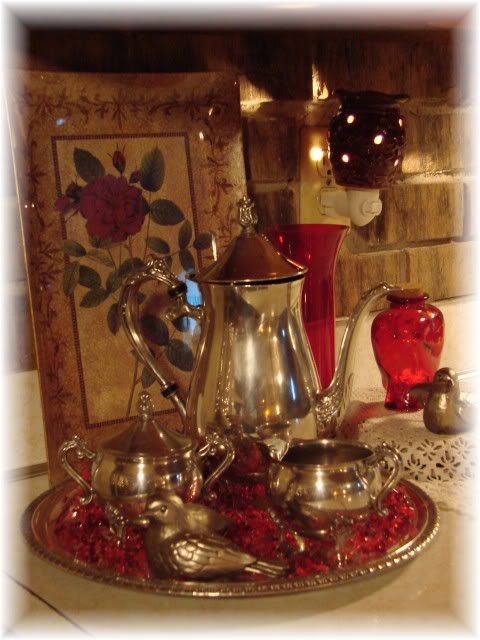 Upclose shot of napkin holder bird ... used doily on books here...the rose glass tray I took from a bedroom: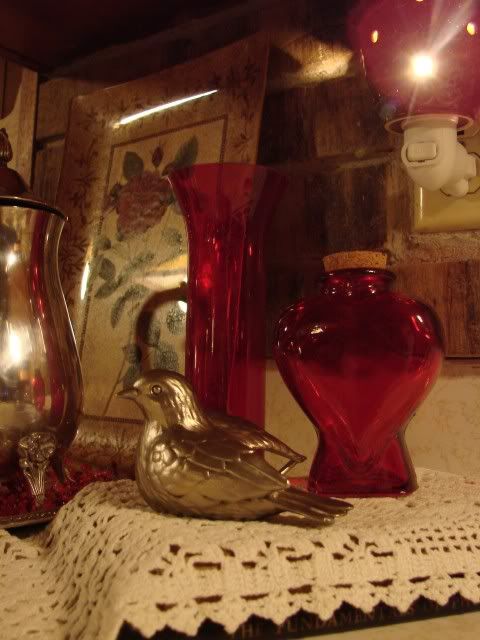 Hope you enjoy...& I should be back in full swing soon! Typing is better tho, you agree? Jeanne S.
Here is a link that might be useful: Val Decor (original link)