My Remote Control Valentine Candles that I Designed!
jeannespines
February 14, 2012
Ohhhh, I am a happy camper today cause I took back those 3 remote control candles (3rd time around) & got their last set at Bed, Bath & Beyond. This time I had them put batteries in & try them out & they all worked! Yippee!
Remember my Tara candle (faux one w/timer) in my GWTW t'scape:
So tonight I printed out some images from a book I have (you could Google images if you want) ... & tried it out on the 3 candles...here's a pic on my kitchen counter w/stove light on behind me:
Here's the same pic w/flash...that plate is a TS find awhile back ...just got 1 plate & `1 cup for $2 & it reminded me of some dishes I thought I saw on Holiday Forum:
Here's another w/just light behind me:
Here's the two tog:
My third pic I printed didn't come out very good for the shortest candle ...so I'm just using these 2 candles. Here's how it looks w/the lights off: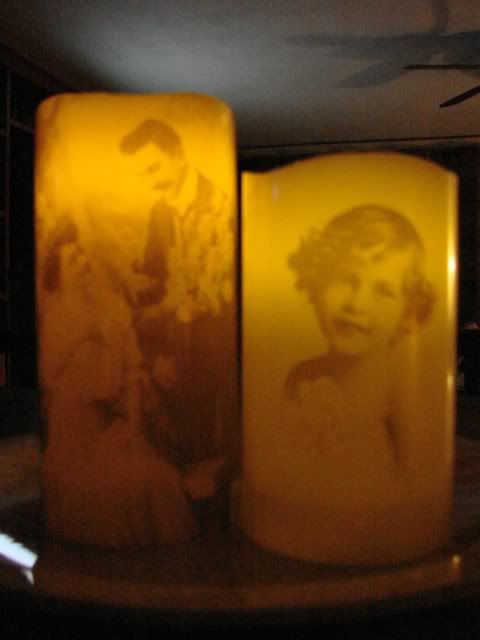 I'm so excited about how they turned out! I printed them in color on a transparent plastic sheet ...it wasn't self-sticking like the GWTW music I printed on. This brand I tried is Grafix Computer-Printable Transparent Plastic Sheets & sells for $7 for 6 sheets at Hobby Lobby...I used a 40% off coupon to help w/cost...they are 8-l/2 x 11 size per sheet.
I used double face tape to tape the transparency to the candle...the candles are waxy finish...I hope it won't leave a residue...if it does, they would usually be turned to the back somewhere anyway.
Anyway, a new idea! I'm going to add a few rose petals to this plate & call it done! Hope you enjoy! TFLookin'! Jeanne S.