Glass accent tile in bathroom - Y/N & design help, please
Hi,
We have gutted our small-ish L-shaped guest bathroom. The shower will be 36x48 with a sliding door and will be tucked away in the alcove of the L (if that makes any sense).
The floor and wall tiles will be 12x18" - a dark gray/brown color for the floor and an off-white for the walls (1/2 wall around the room, to the ceiling in the shower). The vanity will be dark brown with a white vanity top. The toilet and shower base will also be white. The fixtures will have a modern touch (satin finish).
I would appreciate your input/opinions/ideas/inspiration/pics!
Decision no. 1: add this mosaic accent tile we fell in love with or resist the "urge" in an effort to go with a more timeless look?
Decision no. 2: if we say yes to the accent tile, how/where to install it?
(a) vertically, in the middle of the the short side(s) of the shower
(b) horizontal strip (or two strips?) in the shower only (--> at what height?)
(c) use it on the vanity wall which is approx. 30" wide - either top to bottom in form of an accent wall or just one strip (--> concern: too many grout lines?)
(d) other ideas?
Thank you!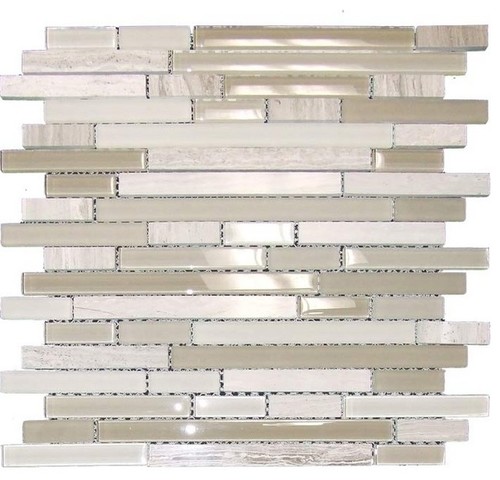 This post was edited by hrumor on Tue, Mar 19, 13 at 16:41