An Evening With Cupid !
After seeing so many lovely VDay tables and Vignettes here...I finally got inspired to do a table.
I bought a tablecloth at CTS - after Christmas Sale,
marked down 90%. I thought it would work nicely for VDay...See if you agree.
Outside of the tablecloth and a few other items, I pretty much had everything already, to put this TS together.
The CP is a large Pillar- Candle Holder - I turned upside down. There was a hole underneath that I inserted the Velvet Roses (Walmart).. into. I used two Cherubs (I had) and just propped up one on ea side.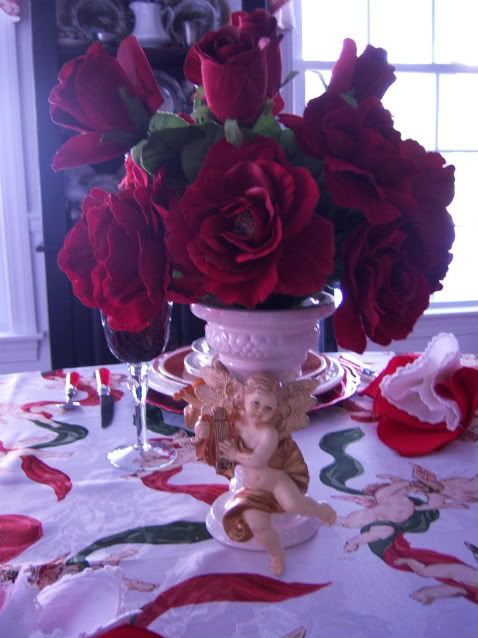 The Red Stems - CTS... Red Hurricanes are CTS - which I elevated on Red Candle Holders from Michael's.
Different Lighting...
I layered two napkins together. The Red Flatware - CTS..
Red Chargers - Home Goods...White Plate - CTS..- Pink Johnson Bros Old English Castles - Ebay....- The Red/Gold Dinner Plates - Flea Mkt..and the two smaller plates -from a Thrift Shop in town.
Hope you enjoyed spending some time with Cupid ...
Thanks For Looking.
jane