A little Valentine decorating in my kitchen
dreamgoddess
February 5, 2011
I finally finished a bit of Valentine decorating in my kitchen. I tried to mainly use pink, but did add in just a few touches of red.
My Hoosier cabinet is the main candy station. I added in a few prints of vintage Valentines, a Cupid figurine and a cherub candleholder.
I found the hearts for the Valentine garland at The Graphics Fairy blog.
Here's a photo of the whole cabinet.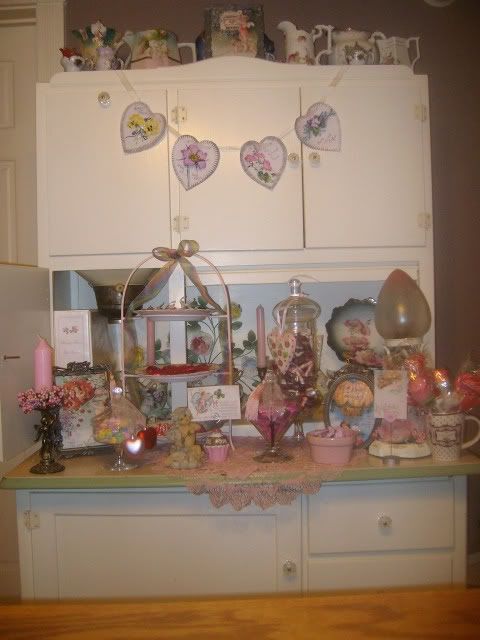 Here are photos of the island in my kitchen.
The pink heart with the floral picture and the two silver trays are recent thrift store finds.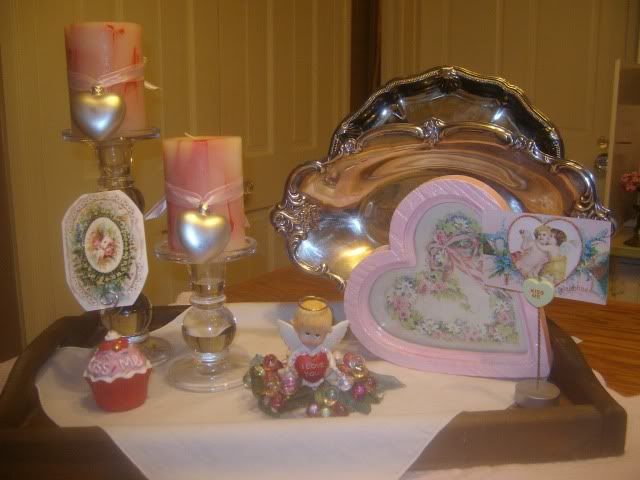 I used more prints of vintage Valentines and one of my favorites is in the cloche. It was also found at The Graphics Fairy. The chocolate plate and cupcake card holders were all found at Dollar General.
Last is the corner of my cabinet that I posted a photo of it last night showing my "new" gumball machine. Gotta have my peanut M&Ms, so I added some in this corner. The pink ones are the best!
I also have a Cupid or cherub pitcher sitting on top of my fridge, but I forgot to take a photo of it. It's solid white and actually quite large. I found it earlier this week at the thrift store. I think I paid about a dollar for it.
Good thing I took photos last night...almost half of the candy is gone already. I'm just hoping the rest will last until Valentine's Day...but I'm not gonna hold my breath!