Need some ideas for my 1950's bathroom restore
DreamingoftheUP
March 1, 2014
I've got a 1957 tract home with a green tile bathroom. It had a minor facelift in the late 80's or early 90's. There are some things I don't like about it (list below) and am contemplating a practical (not historically accurate) restore and hope other forum members can give me their thoughts and ideas.
Basic summary: I like the tile color. The 1990 face lift stripped the vanity's blond stain revealing birch doors but pine facing. Round chrome pulls were replaced with white porcelain pulls and chrome faucets replaced with the white porcelain type popular at the time. The counter was replaced with white Corian and an integral oval sink. The original was a Formica top in a yellow faux marble pattern with a stainless steel band around the edge. The original sink was a square china one mounted with the stainless steel band on top. Walls above the tiles had a yellow sea shell pattern wall paper. Will post pictures below this post.
What I'm considering:
1. The wall opposite the shower head leaks due to cracked grout and gaps in the caulk. It is only being used as a tub right now (showers are taken in the second bath). I'd like to be able to use the shower. Originally, thought to replace the tub surround with some sort of solid surface, matching the counter (see below) while keeping the old tile in the rest of the room. Now, not so sure. The Mr. Grout type companies claim to work wonders re-grouting, sealing and re-caulking to eliminate all leaks. Has anyone had success with those companies?
2. Walls - strip the wall paper and paint instead - what color? All white? Try going to light yellow for the 50's look?
3. Floor - cleaning & sealing by a Mr. Grout type company.
4. Vanity - Reface with wood veneer and replace cabinet doors and drawer fronts. Go with a flatter panel for the fronts. What finish? Rest of house is honey oak type finish. Thoughts? Do something different with the vanity?
5. Counter - I really dislike it as it is now. It reminds me of a doctor's office. Replace it with what? Corian? Quartz? Go with a white marble type look? Try going back to the original yellow marble look? Go with green? Originally thought to use the same material as a tub surround, but now not sure.
6. Sink, toilet - The Kohler Memoirs Stately models seem to make a nice match to the existing lines of the tub. For sink, was thinking of the top mount stately version but with widespread faucets.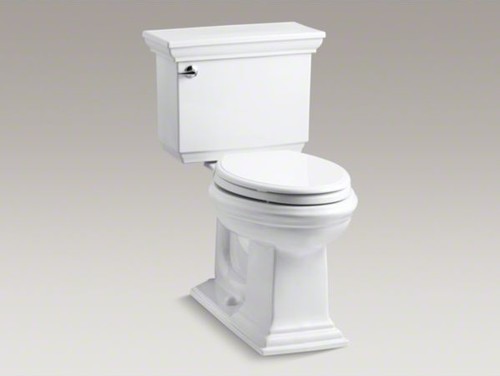 Contemporary Toilets by Kohler Kitchen & Bath Fixtures Kohler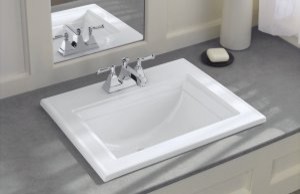 Contemporary Bathroom Sinks by Chico Kitchen & Bath Fixtures Build.com
7. Faucets - All chrome. Wanted something squared off, less round. The Kohler Memoirs faucets would do the trick but am open to other ideas. Replace the two handle tub filler with a thermostatic valve with tub spout, shower head & hand shower. I've got a box of spare tiles in the attic.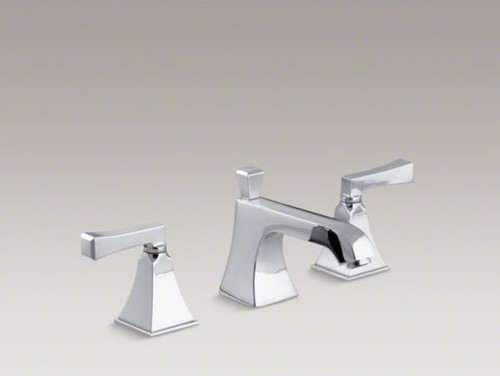 Contemporary Bathroom Faucets by Kohler Kitchen & Bath Fixtures Kohler
8. Window - keep the glass block window but replace the original hopper window (aluminum frame, single pane of glass) with white vinyl window. Window treatment ? take the curtains down? Only a valance on top? Shower curtain - replace with a curved rod and white curtain.
9. Lighting - add a recessed light to the tub alcove (there is access to the attic above). Ceiling fixture and bath bar above the mirror - keep what I have or go with something in chrome with straight lines?

Contemporary Bathroom Lighting And Vanity Lighting by Schaumburg Lighting Littman Bros Lighting
Contemporary Bathroom Lighting And Vanity Lighting by Schaumburg Lighting Littman Bros Lighting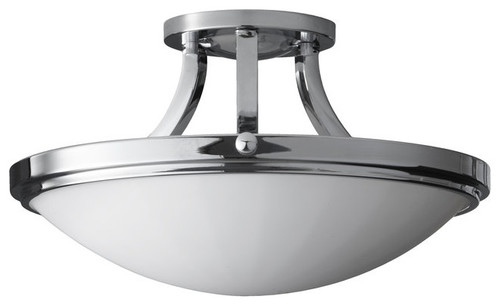 Contemporary Ceiling Lighting by Chico Kitchen & Bath Fixtures Build.com
10. Medicine cabinet - keep. In excellent shape, interior has glass shelves and a razor slot which I use! Original ceiling exhaust fan is in excellent shape and very quiet.