TS Finds ... More Dishes????
jeannespines
February 10, 2011
In other post, I mentioned that DH & I hit a couple TS's...here's some of the "good loot!"
Brass Heron pc (75% off) $7.50 ... 3 wood candlesticks Costa Rica $1.50 ea ....Watermelon plate 50 cts...cup & saucer Made in Japan $1.50:
The watermelon plate will be used as a 'tray' type on Dollbaby's high chair tray...last summer she got a watermelon style summer outfit...LOL! The little tea cup & saucer are so dainty...creamy white w/pale green design & then I bought a clear light green glass swirly plate to put under it for 50 cts: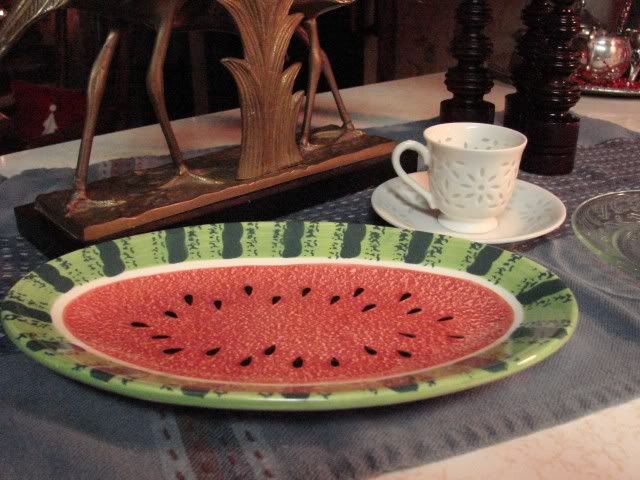 Here's a little closer pic of the herons ...will be used on my bookshelves in LR but am sure it will make it's way to a t'scape one day!
And here's a couple leaf glass votive candlesticks ...$1.50 ea & DH wanted this oil lamp (we have a couple others that we bought long ago)...$6.50..the little metal hummingbird will be used on a barnwood project..maybe birdhouse:
And, of course, I couldn't come home w/o some blue & white plates ... American Atelier French Floral 5091...got 6 salad plates ... w/4 diff flower patterns...they are so pretty! 50 cts. each ...my cupboard overflow-th I'll do plates later but here's one on replacement website.
Ok, I've rambled...TFlookin' Jeanne S.
Here is a link that might be useful: American Atelier French Floral 5091