Could this work? Kids' project
I'll be helping my son's class with their school auction project this year, and I found a planter box very similar to the following ones to use as a base: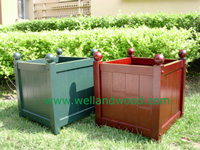 What I'm envisioning is having the kids make ceramic tiles and installing a tile mosaic into the recessed panel sections. I figure that's pretty do-able, right?
But where it gets interesting is how I envisioned making the tiles. (The school has a kiln we can use.) I imagined the teacher rolling out a sheet of clay the approximate size of the recessed area. Then having the kids use cookie cutters in the shapes of leaves and flowers to cut leaf-shaped 'tiles' out of the clay sheet. Then one of the adults would go back over the sheet to make sure the cuts went all the way through, and to cut the 'background' into small pieces so that the whole thing, after glazing and firing could be reassembled like a jig-saw puzzle and grouted in. We'd allow the whole sheet to dry more or less intact, then separate the pieces, have the kids paint them, fire the pieces separated so they wouldn't stick together, then reassemble them.
So do you think this could work? Possible obstacles I see would be the shapes of the background pieces perhaps not fitting anymore after firing? (An exact fit wouldn't be necessary certainly.) Do pieces shrink, grow, or neither when firing? Any other obstacles I should be aware of?