A Challenge!... for the Academy Awards Feb 27, 2011(pic heavy)
jeannespines
February 15, 2011
I'm brain-storming! (for a t'scape!) & challenging you "holiday-ers" to do the same!
Coming Soon: 83rd Academy Awards
The ceremony will take place on February 27, 2011, at the Kodak Theatre in Hollywood, California.
When my Dad died some time ago, my Mom gave me 12 "Gone with the Wind" plates that they had collected on their travels in later yrs. I was so pleased to get them & that started my addiction/collection of GWTW! I loved that movie ..I don't know when I first saw it as the book was published in 1936 and in 1939 the movie won 10 Academy Awards! (not born yet!) I loved the book & wrote a paper on it during my college yrs.
Since we've been talking collections, here's part of my GWTW (which I do not collect anymore exceptHallmark ornaments: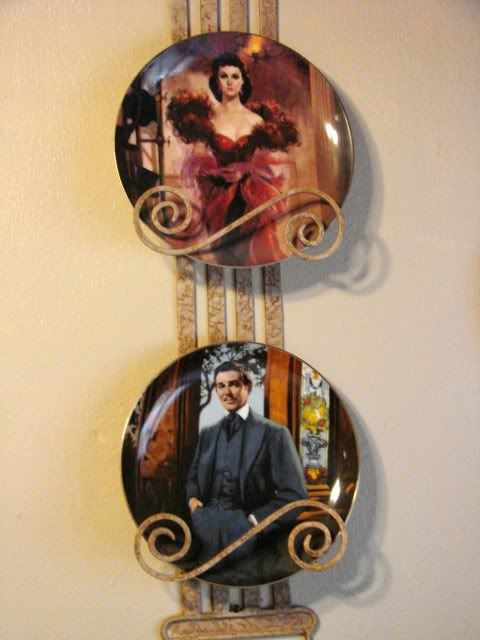 Full view of the 6 plates I have displayed at a time in spare bedroom:
Here's a baker's rack I bought used & repainted over 10 yrs ago:
Top couple shelves w/GWTW collections: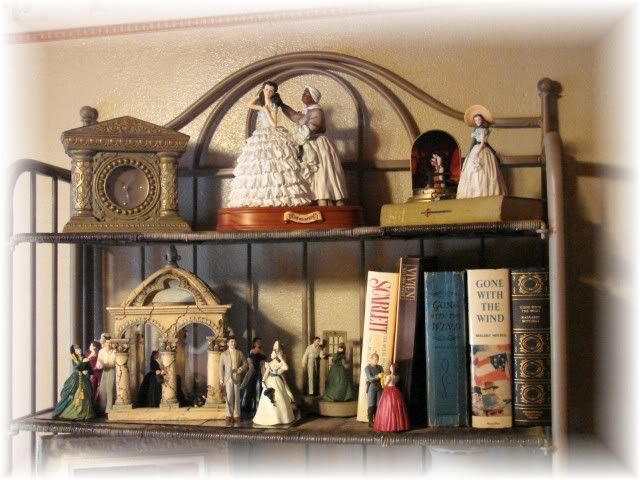 Music box of Scarlett & Mammy:
Hallmark ornaments I've collected over the yrs: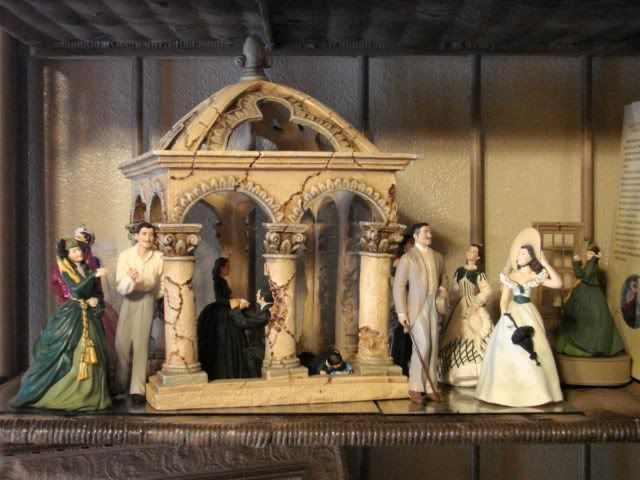 A shadowbox my DH built for me from a frame & I did a print of my Mom & Dad on a clear sheet, lined w/satin, scanned their marriage license & have a fav ring of Dad's & Mom's gold band: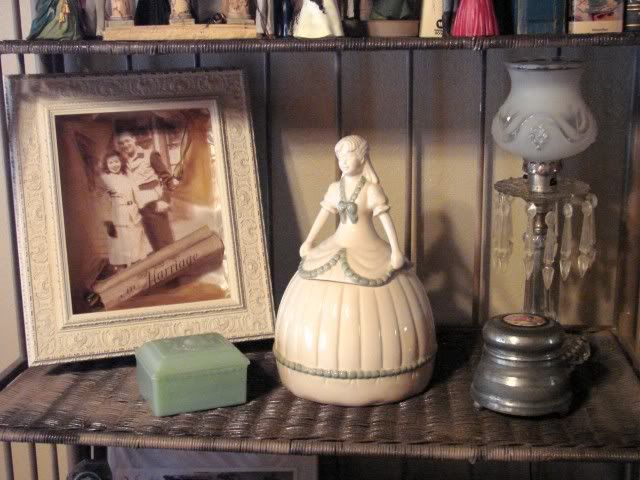 The Southern Belle is a cookie jar & holds doilies. The glass lamp we bought at DH's parent's estate sale.
As a kid, I knew that ALL MOVIESTARS lived in CA! LOL! This blue lady figurine was passed on to me by my G'ma's sister who lived in Placerville, CA...my Mom brought it bk to me as a memorial...oh, boy, when she visited Iowa, she'd always bring out the make-up & we'd get painted fingernails & lipstick when I was a little girl! HOLLYWOOD!!!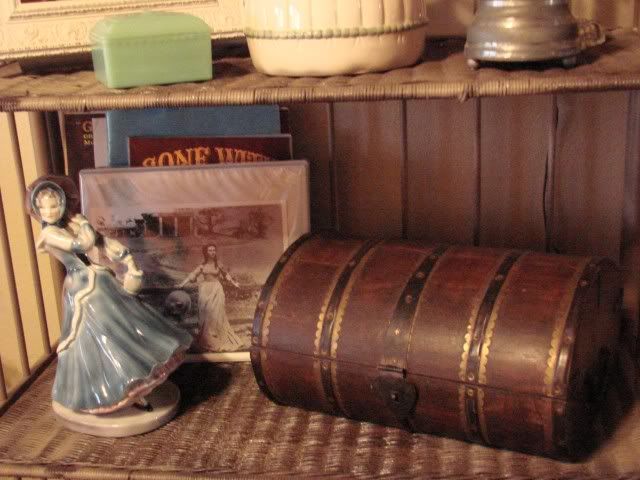 This same shelf has a chest of doilies & such...& my books w/some pics of GWTW, postcards, memorablia.
Ok, I've rattled on...hope you've enjoyed the journey of "Gone with the Wind" & challenge you to a t'scape for the Academy Awards ...Feb. 27th! Jeanne S....