DD's master bath update -Will this work?
Hi all,
Everyone was so helpful when I posted new layouts for my daughter's bathroom. I am back again after reading a few threads about the cost of moving toilets and vents. The layout we are looking at now requires no changes in plumbing and could save big money. The issue is - will it work?
--She wants a more contemporary mid century vibe and likes faucets located on the wall instead of on the counter. With that in mind, I thought she might be able to do a less deep 60 in wide wall mounted vanity 18 in deep with a 12 in or 15 in deep linen cabinet to the right of the vanity.
--As of now the toilet is pretty much where it is now drawn. I suppose it could be moved an inch closer to the linen cabinet. She needs to feel she can use the linen cabinet and she wants the bathroom to feel open
--The shower would be either tile floor, which she really likes or a custom marble base 42 in X 48 in with a 26 pivot door.
--Will this work? Do you see any problems are any other solutions for the linen cabinet corner so she won't have to move the toilet?
--Are neoangle showers of this size comfortable to shower in? Is leaking at the pivot doors a problem? How hard to adjust water temp?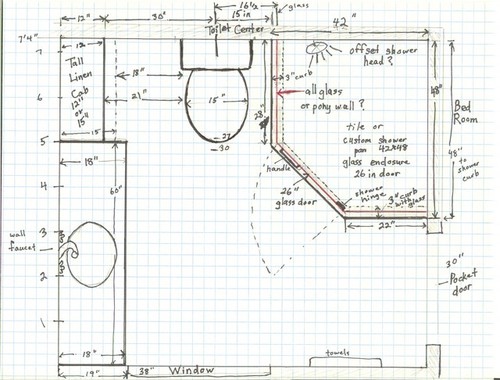 This post was edited by Karenseb on Wed, Mar 13, 13 at 18:33