Valentine Table - Inspired by 'Punk' !
While 'shopping' in my house to see what I had for another V-Table...I spotted a pretty bowl that Punk sent me last Spring. I remember thinking when I received it, how pretty it would be for Valentine's Day.
Sorry Punk, it got stashed away into 'lala land' and I completely forgot I had it - duh -
Maybe it's because I have too much 'stuff' !
I purchased red polka dot plates
last Summer from CTS, and thought they would fit perfectly with Punk's bowl.
See what you think...
Practically the entire tablesetting came from CTS - new and old purchases.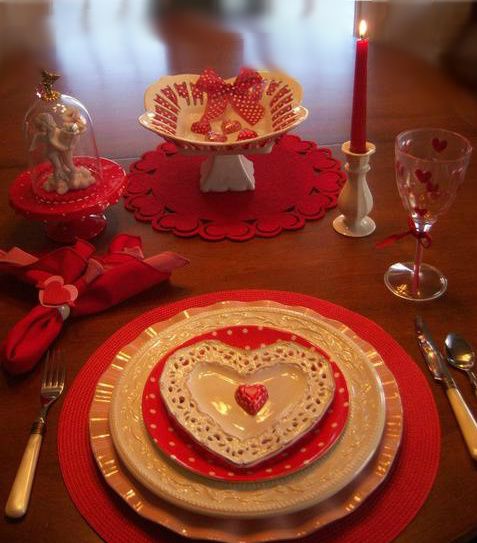 The red heart placemat under Punk's bowl I bought yesterday for $1.49 (should have bought more). The placemats and large white plate and heart plates were purchased a few yrs ago -The Pink Chargers I bought the other day $1 ea..
Red Polka Dot plates - last yr $1 - ALL from CTS!
Flatware - TJM - Heart Stem - from DD last yr.
The Red Polka Dot cake plate - from CTS last yr.
(I put a small cloche on it)
The little cherub inside of it I had..
Thanks to Candy for idea of mounting a small angel on the top with Tacky!!
Hope you enjoyed looking - This was one of the easiest tables I put together - all because of Punk's lovely Gift!
Thanks again Punk !
jane