Where should I put the kitchen? Help please!
Hi! This is my first time posting, and I am looking forward to a fresh outlook on our house plan process from everyone!
We are a family of four with two young children building on an old farmstead site in central Kansas. My husband farms full-time and I stay home with our children. Our house will face mostly east, slightly angled to the north. We are designing the house to maximize sunlight with most of our main living spaces along the south. Our view is nice to the east (cropland) and west (pasture), while the south will be our flower and herb gardens, trees, which will be pretty as well. We will use the existing gravel drive, and it will come around to the north side of our house to the garage and outbuildings, but we will have another drive branching off that will come up the front of the house.
We are working with an architect and our exterior and footprint is set - old farmhouse look. We have a plan that would work but we are still hesitating, so I tried sketching a few possibilities for various kitchen placements.
I wanted to get some feedback and ideas from everyone before we get back with the architect. I am posting 4 different possibilities with a few thoughts on each. Hope you can see them well enough! Please think big picture and not details; I have details written in just so I could see if the layouts were even possible. The stairway can't change nor the footprint and I am only wanting feedback on the main living spaces and their relation with one another.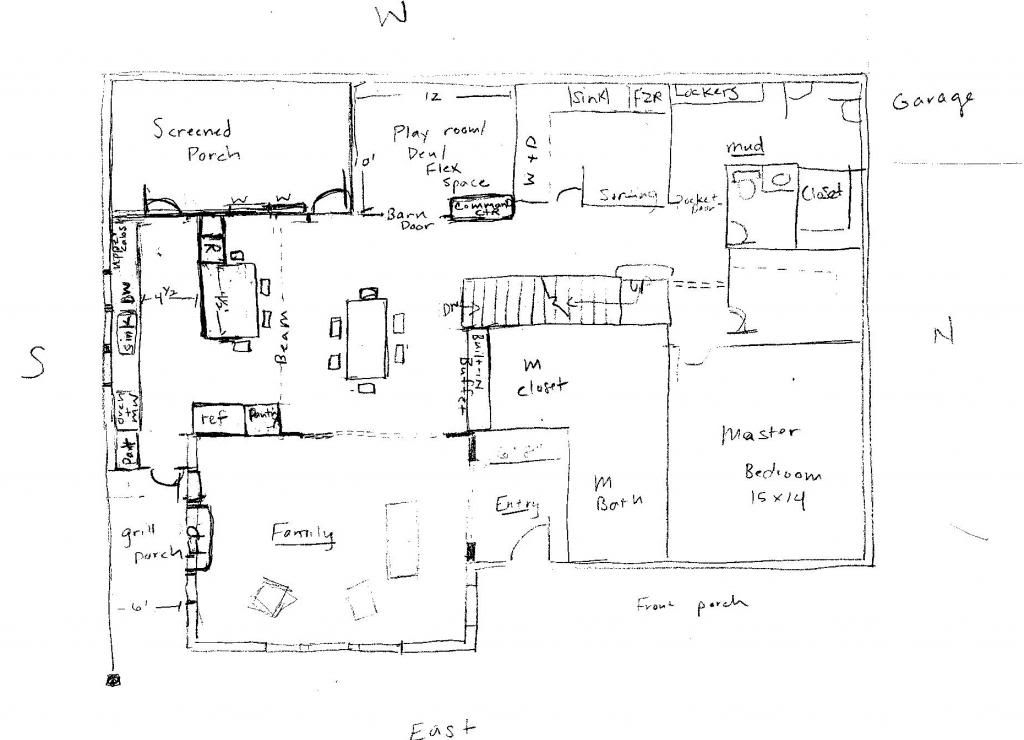 We like the proximity of the kitchen to the family rm in this plan and how the plan utilizes space efficiently, allowing for a nice screened porch. The kitchen is a little smaller than in the other plans and we lose a view of the south from the dining space.
This plan has a great kitchen and also utilizes space well. Husband is concerned a bit about the distance from the kitchen to the family rm. This plan also makes our daylight basement trickier since we will not have basement under the screened porch and we were trying to get south light into the basement.
We lose a screened porch in this plan but maybe we have too many porches anyway? We would use the front porch more often perhaps. The fireplace could also go on the south wall.
Last one!

This one is very different, and probably not the one we will do, but just wanted to experiment with it. Somehow it feels like I will use the family room more since I will always be circulating by it. I like the more open entry, but it also wastes space. We are trying to keep the footprint relatively tight.
Thanks in advance for your help! We appreciate it! BTW, if you need the images bigger, just click on them, my photobucket account should be set for public viewing.