Dilemma for above vanity tower & lighting
I thought I had resolved my lighting dilemma for my new bathroom but now that my cabinet & granite are installed & that we put the tower on the counter I realize I need to make some changes.
First once we had the granite installed (Saturnia) we fell in love & we didn't want to put the tower on the counter anymore. In addition the tower seemed so big. It's 12"W x 15"D x 40"H. As you will notice the tower has a door on each side (so we can both access common items, electric toothbrush, water pick, hair dryer, ...) opening towards the mirrors. We also ran into the problem that the doors would hit the mirrors but we resolved that rapidly by finding door restraints so we can set the doors to only open 80% :-)
So we don't hide the granite we decided to mount the tower on the wall. We rapidly realized that we would have to change the lighting. The pictures I have attached are computer generated. In reality my cabinet & granite are installed, but the mirrors, the faucets, other accessories & the lighting are not done yet. I also have 3 outlets lined up vertically to be behind the tower & I have the electrical rough in done for wall sconces above each sinks about 6" down from the ceiling on the wall. These could be easily adapted for lighting in a valance or can lighting on the ceiling.
I know can lighting is not the best but it's too late for me to change & there's no room on each side of the mirror because having 2 doors on the tower that open from each side is a must for us. My vanity is 91.5" W & 34.5" H.
I put 4 options:
1-no valance no frame around the mirrors & cans on the ceiling
2-no valance w frames around the mirrors & cans on the ceiling
3-valance w lights inside no frame on the mirrors
4- valance w lights inside w frames around the mirrors
All options have a light under the tower.
Here are my questions:
Which option would be best?
If I do a valance, what type of light should I use?
Should I change my tower dimensions? I already have this one & I can't return it but I could order another one for about $300. My options would be the same 40"H but either 12"W x 12"D or 12"W x 9"D. I'm concerned that the 9"D would be too small for my needs but that the 15"D is too bulky. So maybe I should take the $300 loss & order the 12"D???
I appreciate any input you can give me.
Here's option 1 - no valence no frames w can lights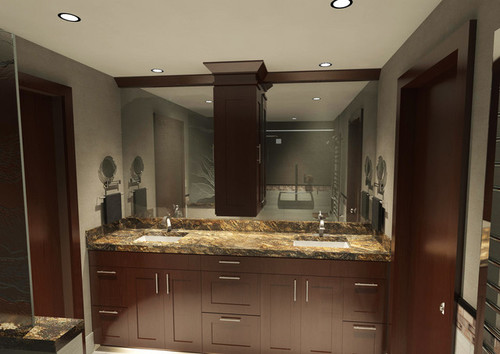 This post was edited by Marie-Joe on Mon, Mar 3, 14 at 13:15