Val Bath Decor + Floor Progress
jeannespines
February 8, 2012
I'm in 'low-gear' in getting everything put back tog ...but am making progress, slow but surely. ;-)
Here's a new area rug on the new laminate floor looking at the end of the living room area & towards the dining: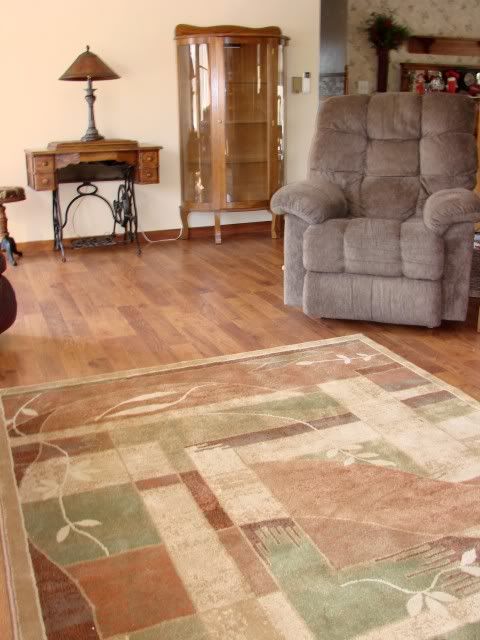 If you 'squint' your eyes you can see that I have Val-decor started on top of the buffet! We got all the furniture back in place (thanks to our kids/gr-kids) & DH cut & worked on trim...we needed more trim w/laminate floors! Finished it up today!
And, of course, guess who else likes the new area rug! I was on my computer last night & came back out to living room...she looks pretty comfy, doesn't she...drug her bed right out there!
Anyway, I took a few minutes to at least have some Val-Day decor in the bath! I've enjoyed seeing you 'Holiday-ers' Val pics lately! So here's the sink/shelf/mirror area:
My 'catch-all' basket on the counter under the shelf...the heart box are rose pink soaps I got at TS for $1 ...last yr, I think.
Close-up of the boy-girl vase (pink) from my collection:
(the pitcher is really white/creamy color...I changed the hue so you could see the details better on the vase)
Here's the BOP ... I love this cast iron boy/girl & use it there alot ...the heart box I shared as a TS find just recently:
And added this 'potted shrub' & added some tiny red heart/beady strings: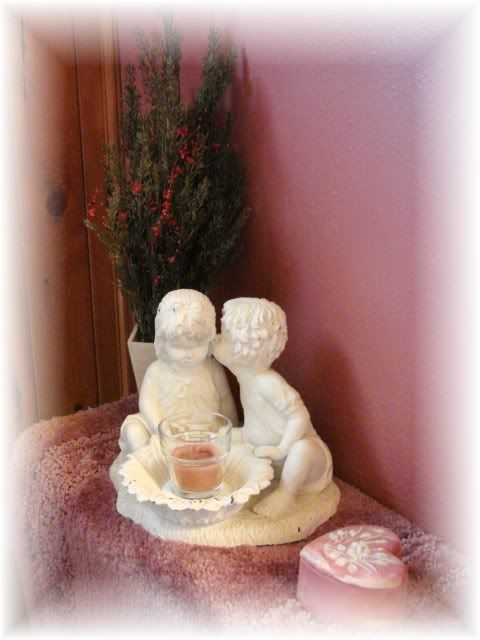 I hope to have everything (in the kitchen, dining & living rooms) kind-of back to normal by the end of the month!
;-) TFLookin'! Jeanne S.