O.T. - New Floors & Getting Things Back Together
jeannespines
February 23, 2012
Just wanted to share a few pics of the new laminate flooring now that 'things' are getting back together. The living, dining & kitchen are 'back to normal' (I think!) LOL!
Here's a view of the LR floor & book shelves that I got loaded up again now (a couple are empty). The couch is getting covered next month in a 'light' color (linen...like the light color in the area rug):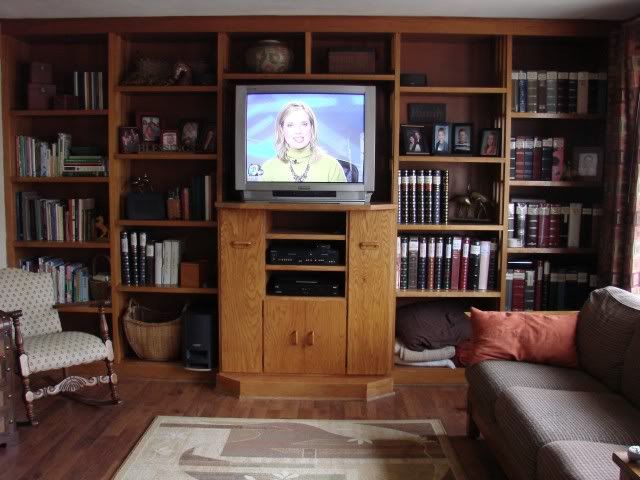 That's the big, honkin' 10+ yr old tv that weighs a ton & needs lots of space...DH built that cabinet many yrs ago...when this tv dies, that will come out & we'll have a nice 'flat' screen in that spot! & a smaller cabinet below.
The rocking chair area:
The new ceiling fan that I've wanted to change for a long time...has longer blades & I love the singular lamp glass shade:
Looking to the other end of LR toward DR...Nellie loves the new rug...she usually drags her dog bed on it...right now she is just 'stretched' out:
That end table in the above pic is the one my DH made awhile back from oak for his 'laptop' computer...a tray slides out & he put air vents in the back of the end table...it's pretty cool, I think!
Here's the dining room view (I used flash in this pic):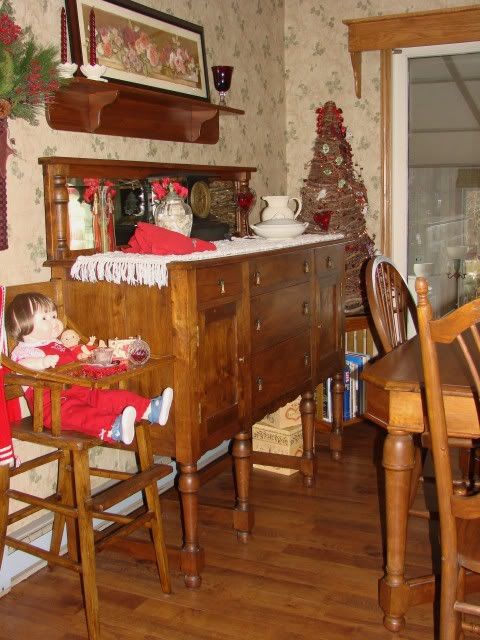 And a look at the kitchen...next step (but will be awhile) is new countertops...light color again as this floor darkened the rooms (so much wood...which I LOVE wood) ...but had lighter carpeting & vinyl flooring before):
A big project...we had the floor installed & then my DH did all the trim work & we painted. Still adjusting to the bare floors...I do love them but so different! Working on porch area yet & my computer room where lots of things got 'stacked!' ;-) Figured it would take this whole month & the month is almost over!
Now ready for some Spring weather! It's too early yet tho...Winter is still here as we are under a Winter storm watch...ugh! Anyway, TFLookin'! Jeanne S.