Triodetic foundation system anyone?
Hi everyone...I've posted here a few times...I mainly live on the Kitchen forum :) We live in Valdez, Alaska & are planning a Spring build.
We just got the foundation recommendations from our Engineer in Anchorage and he recommends using the Triodetic foundation system. We live in a floodplain & earthquake-prone region. The 1964 Good Friday earthquake destroyed Old Valdez.
The foundation part will be covered with siding so you won't see it.
I'm just wondering if anyone has heard of or used this system? I linked a blog below that describes the Triodetic foundation a little more. Thanks!
Here's what it looks like: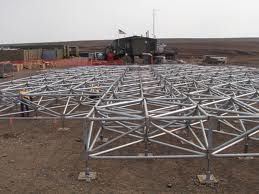 This is the post office in Kwigillingok, AK
Here is a link that might be useful: Blog that describes Triodetic foundation use