Finally replacing the MBa vanity-now what?
This vanity is original to the house, so it's been in place since 1971. We've lived here since 1974. A number of years ago we refinished it and added new pulls. About 5 years ago we replaced the toilet and the shower door (you can see it in the mirror), tiled the floor, and once again, repainted the walls. The light over the mirror is problematic, hence no cover. We need to replace the sink (the overflow hole is disgusting), so it's really time to replace the vanity at the same time.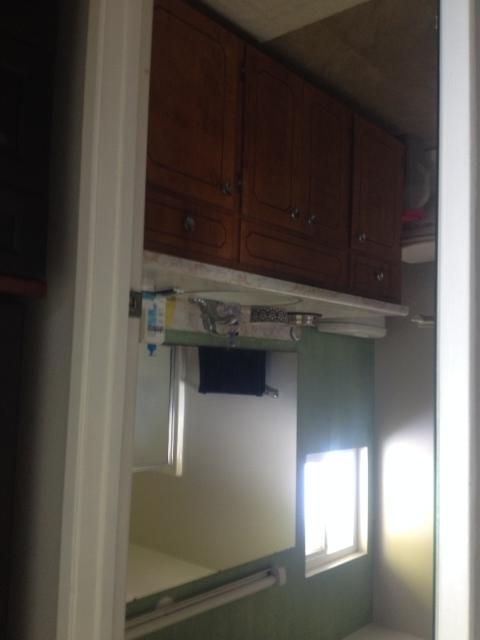 We're pretty much decided on a bamboo, slab front cabinet. If the stone yard has enough of this White Ice granite after they do someone's kitchen, we'll use the remnant. We have our eye on a rectangular undermount sink. I'm thinking about a mirror illuminated from behind. There is another full length mirror on the bathroom door which is important for being able to see the back of me. Currently, that over-mirror light is the only lighting in this bathroom, which has been adequate, but I'm open to suggestions. We know that the floor tile will not extend all the way to the new footprint. We probably have some left-overs to add next to the toe kick, or we (meaning me) could tear it up and do something else.
I'd like to do something interesting to that back wall. Tile? Tile with a stripe? Other ideas? This is a 5' x 7.5' bathroom plus the 33" x 33" shower alcove. The shower is staying as is. This bathroom is directly off our bedroom vs. off a hallway. We have a minor black and white thing going on in the bedroom and the cat's water dish in the bathroom (I did say minor), so we could potentially play off that. On the other hand, I chose these tiles when we were doing the front walk and I love them.