floorplan and rendering. feedback requested
This is a renovation of a master bath. Mostly I'm keeping everything in place.
The windows in the tub alcove are currently glassblock that have seriously deteriorated, and I don't have a need for privacy in that direction, so they are being replaced with large full-height sliding windows and a sliding door to access the bathroom from outside (it's a lake house). The current tub is built-in and fills out the entire alcove area. I think a free standing tub with a handshower over a floor drain to use to rinse off after swimming will be a better solution.
I am a bit concerned, though, about accessing behind the tub for cleaning, but I'm hoping a hose-down from the handshower will do it.
The look I'm going for is modern/asian.
The cabinets are standard Ikea above-fridge cabinets customized with drawers and non-ikea bamboo drawer fronts.
Questions:
Niche above the counter or no?
Supporting legs should be what material? Metal legs? tiled 4x4s? Other?
I'd love for the cabinets to float completely, but they are 24' deep including what is beyond the backsplash. And the counter is heavy: 2" concrete.
I haven't decided on flooring yet. Maybe a porcelain slate look-alike or acid stained concrete.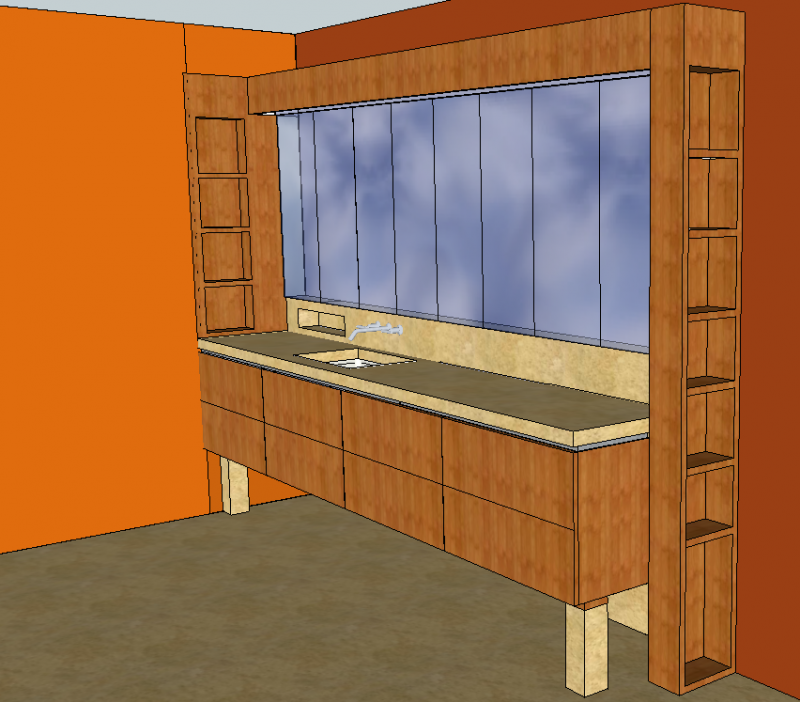 I am also a bit concerned with the shower door opening, but they open inwards also. I'd like to make it curb free and treat the toilet-shower area as a wetroom, just like the bath alcove. Or should I wet-room the entire room? If I put in electrical floor heating, will that create a problem with the wet-room?
Any ideas, comments etc are very welcome, as I am very soon about to embark on this project.