Got the prelim plan - not thrilled...detailed requests!
zosogirl
February 26, 2013
Hello! We are hoping to build our house this year, and we received our first prelim plan layout, and DH and I aren't exactly excited about it. I never found a plan that meets all our needs, so we are going with a custom design, and I think the designer tried to accomodate most of my wishes, but now we need to fine-tune it. We have a 1 1/2 acre corner lot, with well water and septic tank, but right near city limits, so we are not in the country. We are in the middle of the country, so we have hot summers and cold windy winters. Some of the things I asked for are the following:
1. Craftsman or bungalow style 1 1/2 story house with Southern exposure, for both passive solar and views to the back yard (which would be our best views), and privacy. I'd love the look of an old house with modern amenities. Would like to keep the main floor SQ between 2000 - 2200 or so, with a basement at garden level with windows on the south side of the basement for light and warmth in the winter.
2. Block views to the North and West (street sides of corner lot and neighbors), with MB on the SE side of the house. Window above bathroom vanity area facing east for natural light when putting on makeup in Master bathroom.
3. No closet in bathroom, I'd rather walk through or by a hall of closets to get to the bathroom (designer didn't do this, because he tried to give us a FP between bath and bedroom, but I'm getting rid of that).
4. Kitchen sink/window must look out south window, pantry behind kitchen, so I can spend less on upper cabinetry in the kitchen, and store more in the pantry. Freezer in pantry on opposite side of Frig in kitchen.
5. Front door facing west with porch, would like a ramp or gradual grading to get on the porch for our elderly and handicapped relatives.
6. I like stairs with a landing and a window.
7. Guest room that also works for handicapped person in case we take care of one of our parents (or for us) on main level.
8. 2nd story with 2 bedrooms - one would be a nice suite for our 13 yr. old daughter with her own bathroom, etc. I'd like her to have a nice view to the south and maybe a window to the west to see when friends arrive in the driveway.
9. I originally specified a mudroom/breezeway that could be used as a greenhouse on the southern side, and have a long row of closets for all our coats on the north side. I also like separating the garage from the house somewhat for noise and fires. I would like a dog shower area in the mudroom or laundry room, for our dogs and for muddy boots, etc. I don't want to walk through a laundry room to get anywhere. I hang dry a lot of clothing and I want the room to stay somewhat private and clean for that reason. It can be a larger space with cabinets for cleaning supplies, etc. I would like a window in the laundry for air flow and outside wall for dryer venting.
10. The front entry needs space for coats, etc. for guests, but not necessarily a closet, since nobody seems to want to use a closet, but find a bedroom instead. It can be a bunch of hooks with a bench. We host family gatherings that can easily be 20 people at a time, so I was thinking 2 rows of 10 hooks maybe.
11. We need a huge garage, that's why what you see is so large, it is a tandem 6 car garage with space for our camper. We have 3 regular drivers and one classic car, a camper, motorcycle, bicycles, and possibly an ATV later. Would like storage that is closed off towards the south to keep the main garage clean and clutter-free. DH works from home and would like his office on the west side of the garage with NO view to the backyard, so that he doesn't get bummed on a nice day while he's working, watching us have fun! :) There are times when he may have to bring in other people or the main office may move to our location, so that's why it's a large space. He would like to have a bonus space/mancave above the office. I picture a little balcony or deck to the west to watch sunsets and storms as well from up there.
12. Would like a music room/library for our books, a piano, a cello, a large antique sofa, artwork, maybe with French doors. DD needs a place to close off for privacy when singing and practicing.
13. Would like a big office/craft room for all my stuff. Didn't get this on the prelim due to space, but that's pretty important. He gave me the pocket office instead. We had pictured a room with a view to the west across from the entry because I spend a lot of time on my computer, and it would be nice to see the driveway when someone comes over, etc.
14. Don't want the kitchen directly near the LR for kitchen noise, but would like an open concept. The dining room needs to be able to house a large table that when extended seats at least 16. I would also like a buffet area near there for storage and to place food during holidays, and a closet with storage for table linens, tablecloths, etc.
15. We talked about a sun room, but will probably kill that. It's not very important, and the one drawn here is too big. I'd rather have the sunshine into the living area. A partially covered deck would be nice, though. We will be putting in a pool - nothing fancy, probably above ground. I will have a garden in the back yard as well.
I know this is a lot of information! I do have lots of inspiration photos and examples, and a 2nd story drawing I can post, but it looks like I can only post one image at a time? I've tried for so long to figure it all out myself, and just got frustrated, so we went to a professional. I was hoping for more, but maybe with your help, I can send him our changes and we can get a better second version! I truly appreciate all the knowledge and expertise I've seen on this forum! Please see if you can help me figure this all out...I know I've got a lot of requests! Thanks!!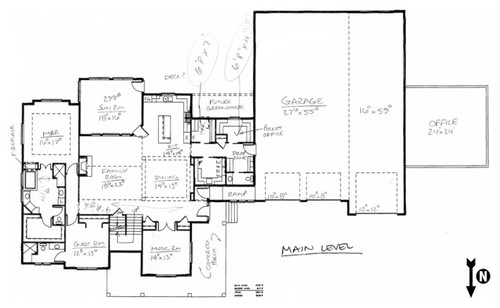 Here is a link that might be useful: Inspiration for exterior
This post was edited by zosogirl on Tue, Feb 26, 13 at 13:36