Floor plan enthusiasts please take a look, feedback appreciated!
pay_it_forward
February 5, 2012
My husband and I, along with our two year old daughter, live in rural North Carolina. Our desire is to build a home that is healthy for both people and planet, using as many sustainable materials and methods as possible.
We own five acres and will be orienting the home to the south to benefit from passive solar heating. Our plans include solar water heating as well as preparation for future installation of photovoltaic panels. As we are not keen on forced air, we are considering ductless mini-splits to supplement the passive heating and cooling strategies we have in place.
While keeping in mind that the future is unpredictable, we are planning as if this will be the home we never move from (trying to incorporate as many universal design principles as feasible). In 3-4 years, we are planning to foster children (and potentially adopt). It is also important that we plan for the possibility of parents living with us in the future.
Here are our preferences:
- a nature inspired (organic architecture), mid-century modern/Scandinavian feeling, bright (lots of natural light) home that has character and is beautifully simple, functional, budget friendly...
- single level around 2000 sq. ft.
- three clustered bedrooms (including master) and, on the opposite side, one flex space near the guest bathroom to be used as a combo fitness/guest/potential parent quarters
- one master bathroom and two three-quarter bathrooms
- laundry near bedrooms
- kitchen open to living area, with dining area to the side
- office with room for storage
- something fun (like a hideaway/reading loft over a closet?)
- safe room that can be utilized as something else (closet, laundry, etc.)
- seamless indoor/outdoor living
- a detached garage or carport (most likely to be added later)
Using Chief Architect, this is a floor plan I have been playing with. I would greatly appreciate any thoughts or suggestions you may have (or ideas for something completely different, incorporating the above preferences).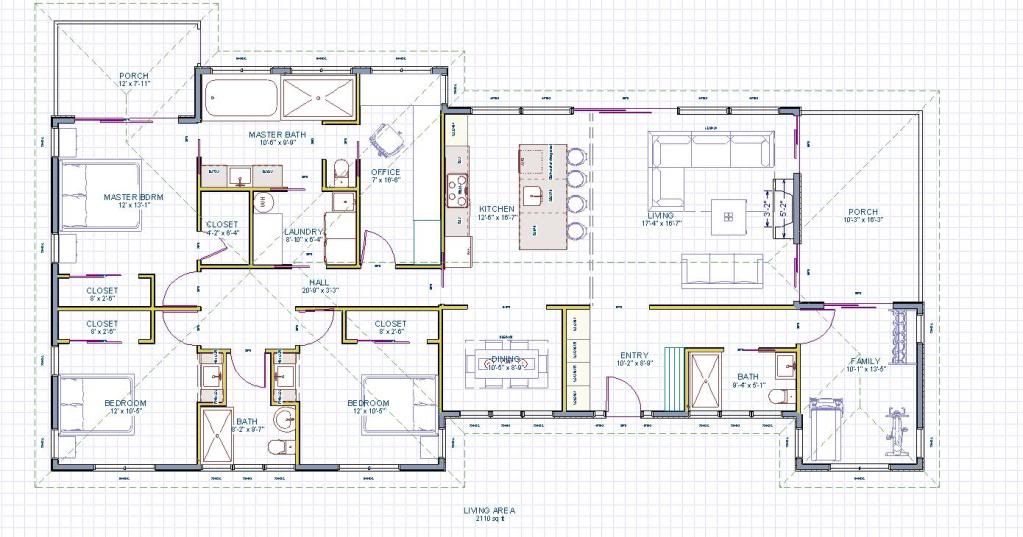 Plan specifics:
- the top of the plan is south
- the driveway/parking area will be on the bottom (north) or right side (west), depending on final site determination
- mountain views to the south and southwest
- slab foundation
- still trying to determine the type of roof - thinking about a shed, a hip with a raised center (we also like FLW's prairie style), a modernized gable with clerestory windows, or a combination of sorts
- small walk-in closet in master bedroom is also the safe room
- that is a folding table across from the washer and dryer
Architect David Pearson states our wishes well:
"Let the design:
- be inspired by nature and be sustainable, healthy, conserving, and diverse.
- unfold, like an organism, from the seed within.
- exist in the "continuous present" and "begin again and again".
- follow the flows and be flexible and adaptable.
- satisfy social, physical, and spiritual needs.
- "grow out of the site" and be unique.
- celebrate the spirit of youth, play and surprise.
- express the rhythm of music and the power of dance."
Thank you in advance for your time and ideas!!