Finished Valentine Decor & Dollbaby Ready for Val Day(pic heavy)
jeannespines
February 14, 2012
Finished up tonight w/Val decor ...just in time for the Val Day tomorrow!
Table centerpc was inspired by one of Kathleen's recent t'scapes posted ... I used berry garland, bubble glass candleholder, TS plate & some glass red hearts, white candle: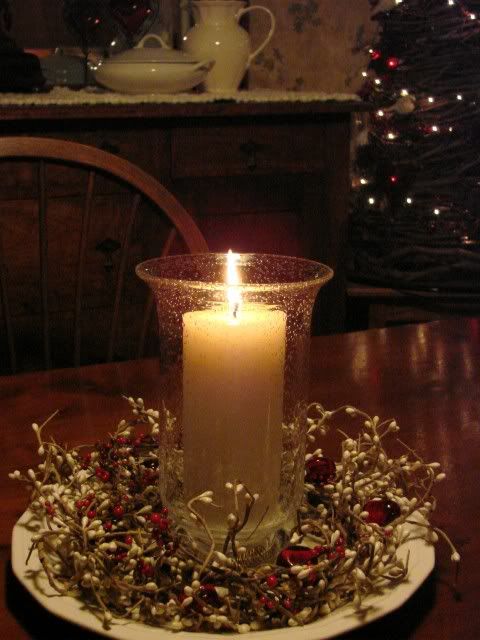 Here's the left side of the buffet ... paper book, covered jar of buttons, boy/girl vase & napkins & rings made from silverware:
Here's a close-up of napkin rings that I bought at a specialty shop (on sale):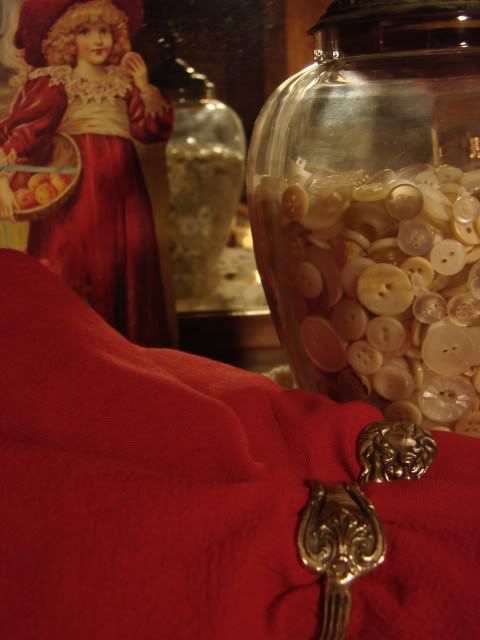 You saw the right side of the buffet & shelf w/roses pic yesterday ...so here's a full view pic tonight (poor lighting):
And I got that TS silver tea set out from last yr ...altho I just gave it a 'wipe' ...didn't polish it up today...still looks quite pretty, I think:
Dollbaby got some new clothes this past yr (from thrift shopping)...this is her new (old) red Val outfit & that's a hooded sweater hanging on her high-chair:
Pants & little shirt has flower motifs...just cute as a button...sorry the lighting is not so good tonight. Here's a closer view (with flash):
The Cupid doll is from my Mom's things...she hand-sewed the lil' red dress & panties for it.
Here's Dollbaby's TS new shoes (they still had tags on them)...so she's getting to wear her tennies for Val-day! ;-) And that's the new laminate floor you're seeing in the dining room:
Her tray-scape has a red doily I crocheted for a placemat...a little crystal cup & saucer plus the covered jar I just got last week at TS ...I filled it w/glass hearts...the lil' spoon is part of inherited silverware ...has lil' hearts on the handle: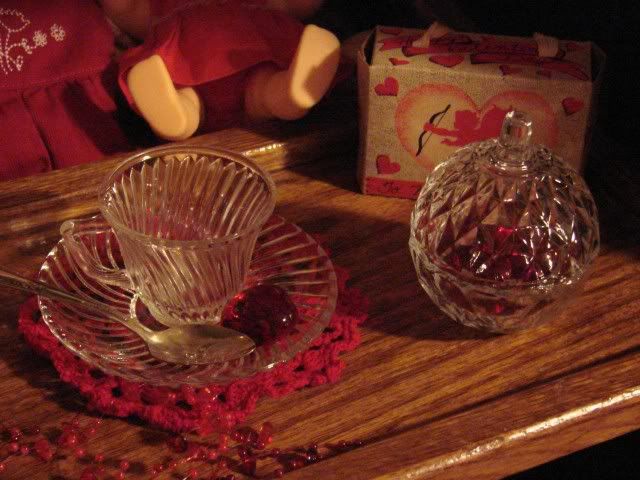 Well, hope you've enjoyed ...I'll take some better pics of new floors during daylight. TFLookin'! Jeanne S.
(& I got the china closet filled back up today with Jewel Tea Autumn Leaf china!) Yippee!