Winter Cardinal Table
Looks like Candy & I found Sonoma Bird Plates..and we weren't even shopping together!
Yesterdy, between visiting Dad and snowstorms, I convinced DH to go shopping a few towns away, to my favorite Consignment Shop.
Immediately I spotted these lovely Cardinal dishes. I asked the woman if I could just buy a few pieces. She said no it's a whole set - service for 12 - with just one dinner plate missing. I asked how much, and she said $20 for All - Dinner Plates - Soup and Cake Plates.
(WooooHooo)..!!
Honestly, I really didn't want another full set of dishes.. I fought with myself a few times - Really I did - (I ususally do that)...but I couldn't resist...
MY WEAKER self gave in!
DH was VERY supportive...and said, 'I'm happy you got them cause I didn't want to hear you say over and over ...I should have bought those dishes' - (I know he meant whine)..
He's trained well!!
So, I this table evolved. I don't have any Cardinal accessories like some of you lucky ladies - (Karen-Candy-Jeanne).. and I tried Not to make it look 'Christmasy'. See what you think..
The dishes are - Sonoma 'Home Goods'..Red Cardinal.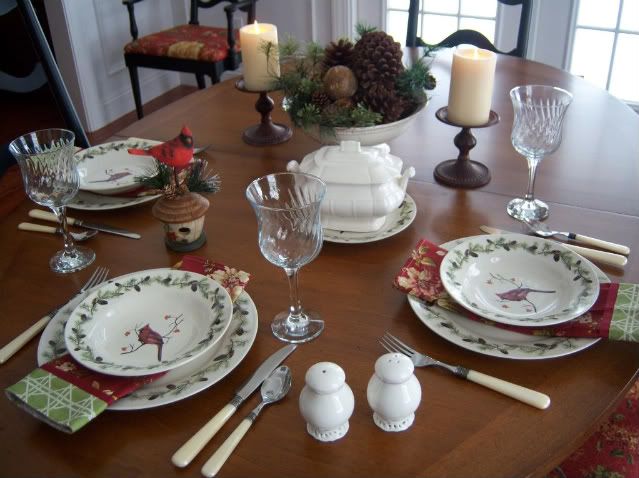 I kept it simple and didn't use placemats or chargers..just my wood table. I used napkins (Waverly-CTS) that are multi-patterned for some contrast. I was hoping to create a warm 'Winter' look.
The Flatware I've used many times - from TJM..
The camera doesn't do justice to the delicate pinecone pattern...which has a raised embossed look to it.
This is my DR Centerpiece for 'Winter'. Just like Jeanne..I love pine boughs and pinecones..throughout the house.
The Bowl is Yankee Candle from GW $3...the Candle holders - a Consignment Shop - $3 for the pair.
Different Lighting taken last night.
The Cardinal Bird - CTS last Fall..The small white tureen from -(my collection) Estate Sale - many yrs ago.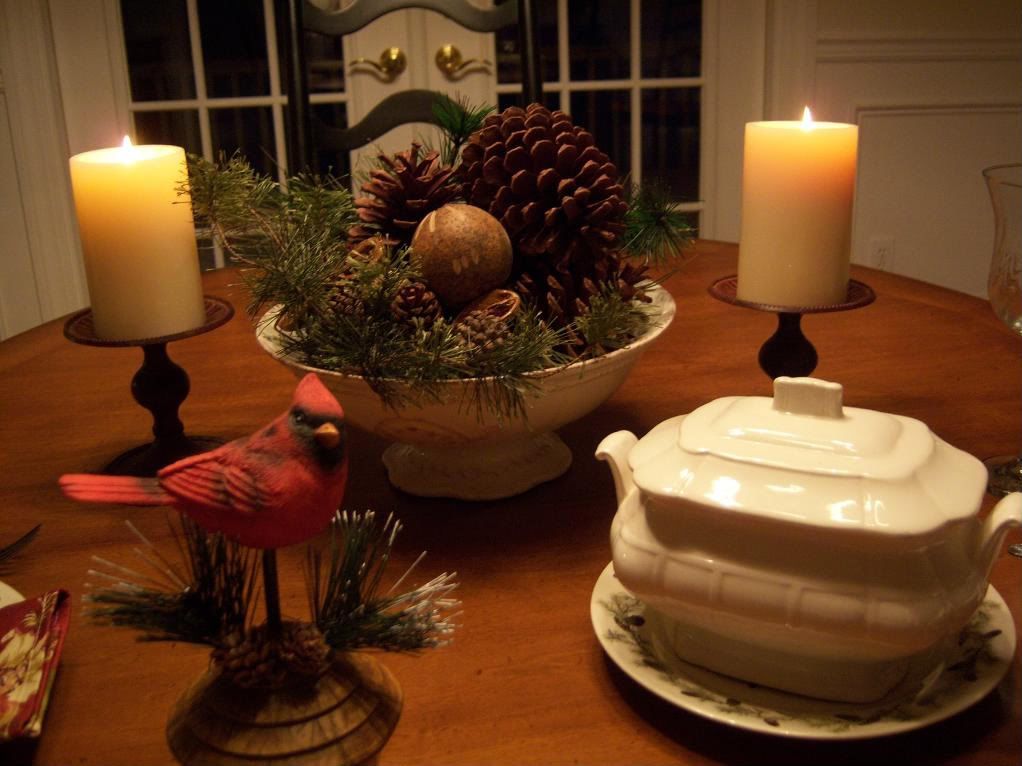 Another shot of centerpiece - Different Lighting
I know next Christmas these dishes will be fun to 'play with'.. Do you think I was able to achieve a 'Winter Look' with them for now?
Hope you enjoyed looking..
jane