Simmering Culinarian(, batman)! [photo heavy - ignore if on dialu
aliris19
February 29, 2012
OK, you asked for it amcook: how's *this* for TKO?!
Here are pictures of all six of my burners on simmer with the lights out, plus one of the homemade "comal" dh fashioned of scrap copper wire.
Clockwise, from upper left: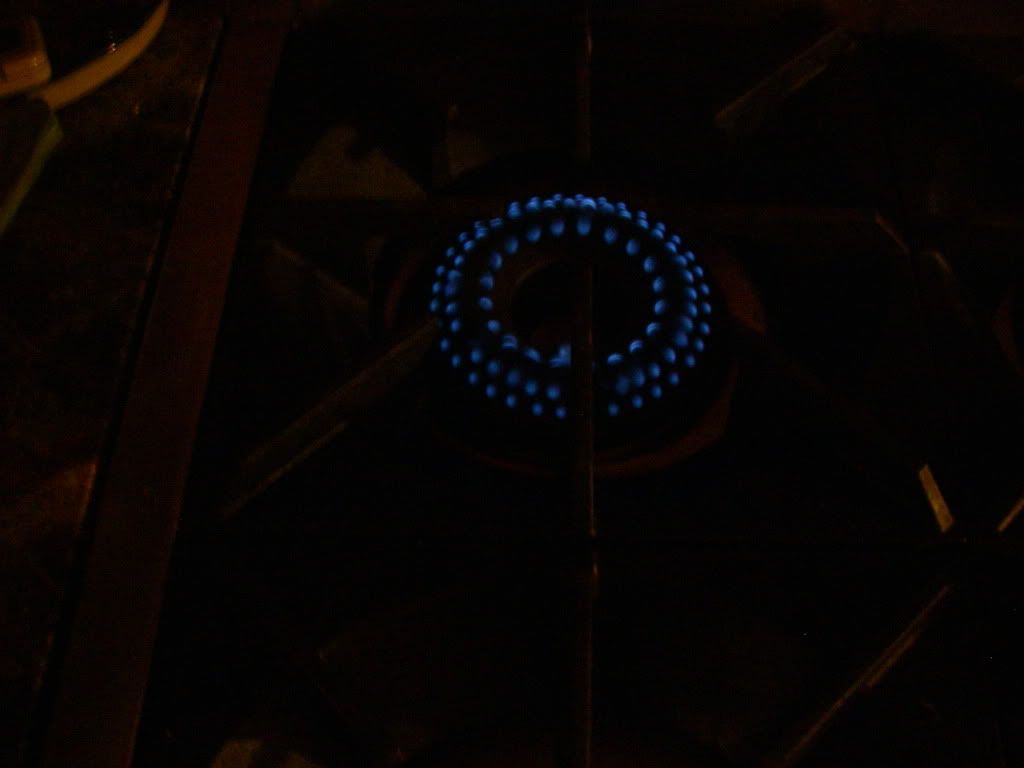 Middle rear:
Right rear, with comal:
Right front:
Middle front: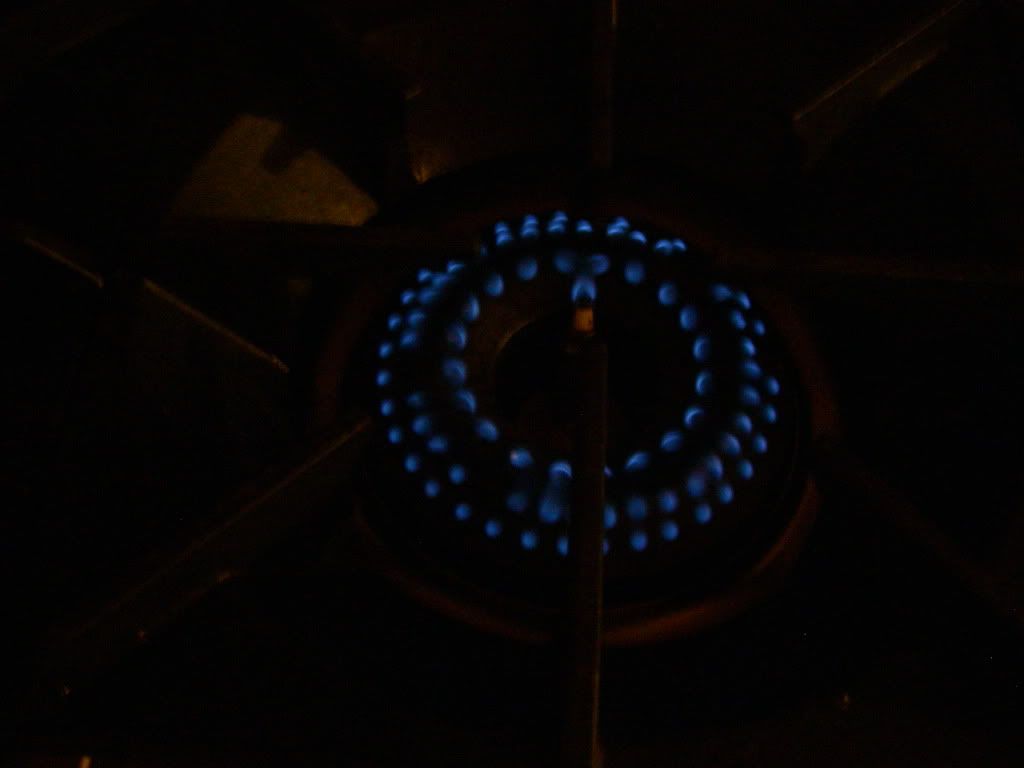 Left front: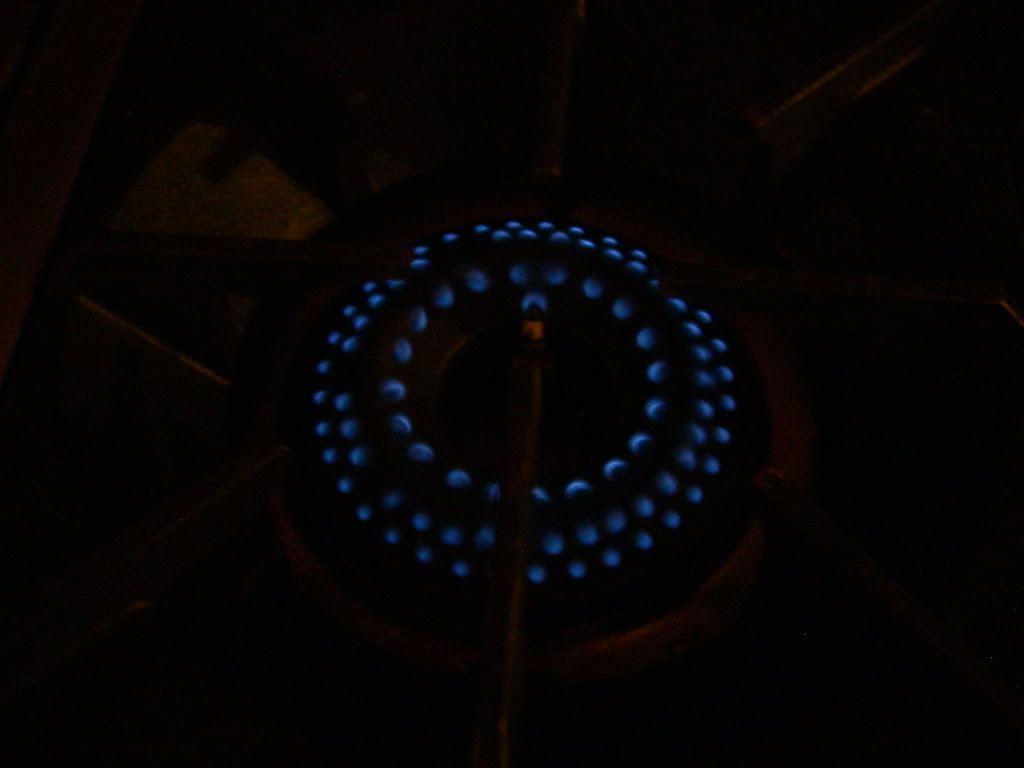 And here's the cute homemade disperser, a thing of beauty, no?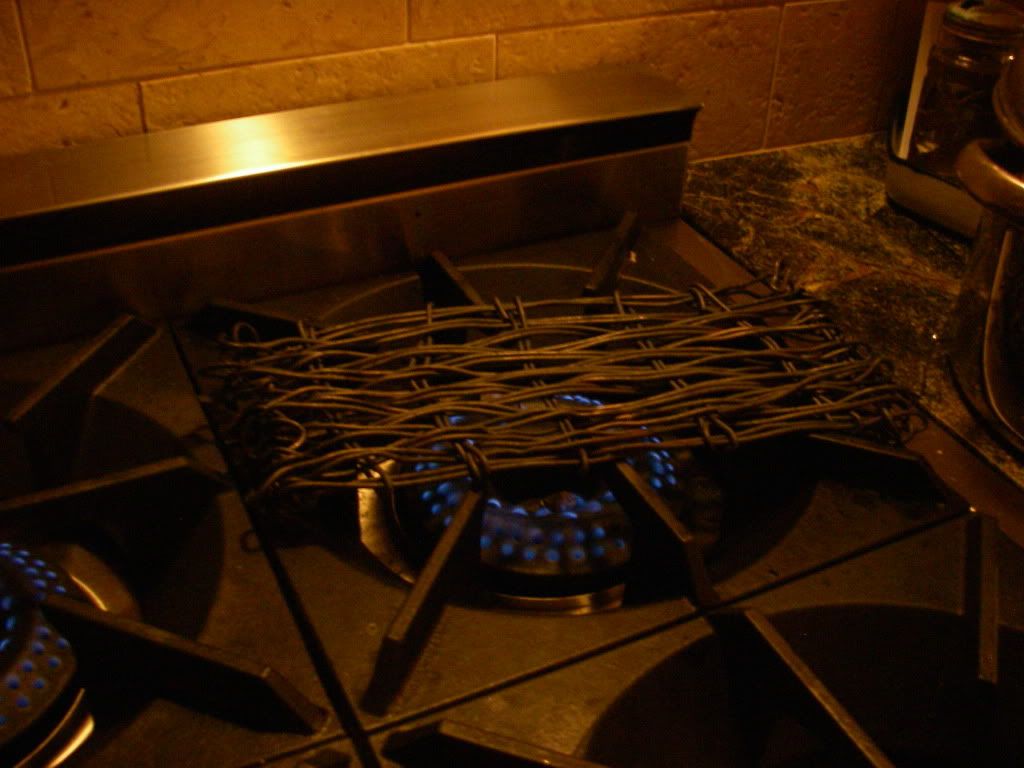 Because the disperser was on the right rear I think it couldn't be well seen so I snagged it again, this time with some light on it:
So here's the thing - when my machine arrived its burners were all clicking with, as Trevor so aptly puts it, the most annoying sound known to man. For this and two other problems the factory folk visited me in my home for several hours; I live near-ish to the factory. They definitely fixed the clicking - there is still some residual but it's sporadic, usually when a breeze gets set up near the stove.
I know I could probably make these sporadic clicks go away, but only by cranking *up* the flame, and the problem is, the flame's too high already. I can't simmer anything. Soups, sauces - both delicate and not, rice - they all stick and burn and/or boil roilingly even at the lowest setting.
To compensate, I stack grates one on top of another, move the pot to the side, use the disperser or some combination of all of the above. And I have ruined one le creuset pan (my fault - I did as amcook cautions against, I turned my back on cranberries (actually, I let a kid be in charge and didn't supervise) and they just boiled dry and scorched big-time. My fault, but just for the record, the stove *was* on "simmer").
I hadn't quite appreciated earlier what a large portion of my stove usage is devoted to simmering. Consequently I am really more than a little disappointed in this stove, to tell the truth. That said, I have not pursued the problem to date. Therefore, my current unhappiness is my responsibility and my fault and should not be understood as a condemnation of the machine. The people from the factory who came out were very nice and tried to convey that they would be happy to return if I needed them. I have been reluctant to bother them to return, but for this they cannot be faulted. I have figured some large part of the problem was due to "operator-error" inasmuch as I had not been cooking for well nigh something like 1.5 years when my kitchen got back into swing (long story why).
And now, I think I'm back up to speed in the cooking department, so it's time to address this simmering issue. I was bemused to note the problem still being kicked about here on the appliance forum; I haven't visited here for a long while. But clearly operator-error or no, this continues to be an issue for some. Don't know the denominator -- maybe thousands out there have no problems at all. But when dh presented me, proudly, with his homemade copper-wire disperser I was just so *embarrassed* that the machine I'd garnered so many thousands of his hard-earned income for, needed that sort of fix. I hadn't even mentioned any problem to him whatsoever, but I guess it was sort of obvious.
So. Do these burners look too high? How can I turn them down without sparking the death-clicks? And why are some not having this problem and others are? This can't be a terribly complicated problem, and the metrics are pretty straight-forward: either the burner is clicking or it isn't. Either the soup is burning or it isn't.
Thanks for any help from you knowledgeable cooks and engineers. I'm happy to foist a thin screwdriver if needed, though I have not to date. Seemed to me the factory guys were going to have done all that could or needed to be done. But it's been long enough now that I'm up for fiddling if the doctor so-advises.