Master Bath reveal...lots of pics!
I seldom post but I spend plenty of time on these boards and want to thank everyone here for all the knowledge you continue to impart. What a wonderful resource GW is for those of us who love to remodel, rebuild and redecorate! So glad I found this forum.
We bought my parents' home about three years ago and have been remodeling ever since. Built in 1980 it has a wonderful floor plan...just needed some updating. We rebuilt the master bath last fall and love every bit of it. My husband did all the carpentry, electrical, plumbing, painting, etc. - I think I'll keep him!
We took out one of two walk in closets (moved my husband's clothes into built-ins in the MBR), removed the old tub, and opened it up considerably. We love looking out to the back yard - it's completely private so we decided against window coverings.
Before - the original double vanity has been replaced by a built-in dresser.
The old bathtub and toilet were in a separate compartment
The shower had its own little room, too...
After...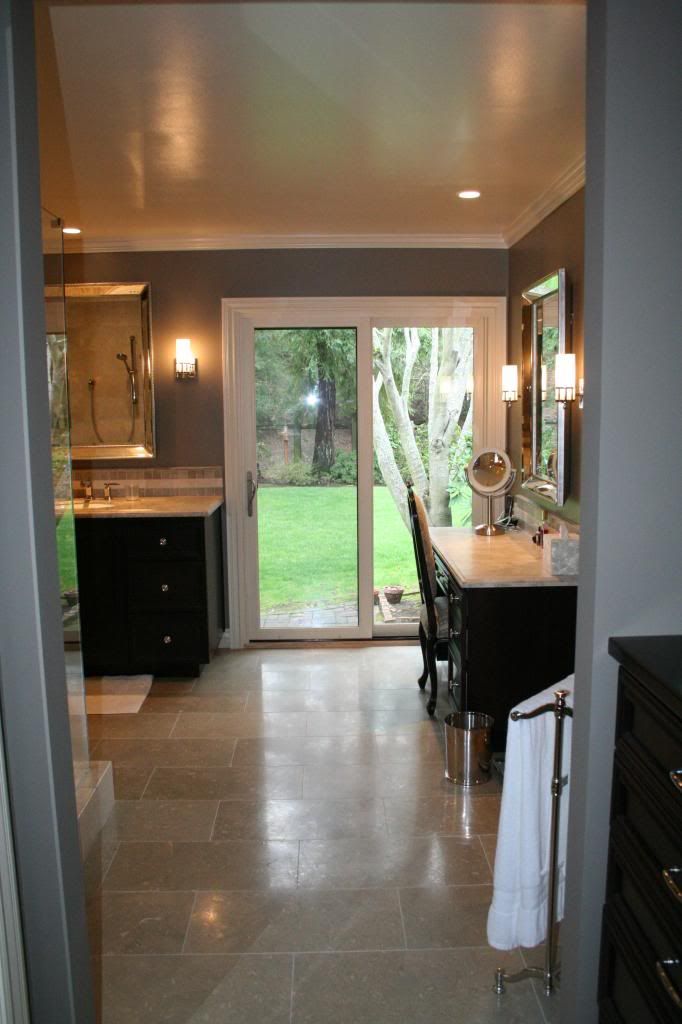 The window that had been above the tub is now in the shower. We took a picture to the artist and had it sandblasted...so happy with the result!
We added storage cabinets (made by DH) in the WC to replace a linen closet we are removing from the hall in preparation for our kitchen remodel later this year.
Closeup of the Margaux faucet...
This corner cab houses our electric toothbrushes - nice to have them out of sight.
Enjoy!
Counters - Pacific Pearl marble, honed
Fabricator - GM Marble, Concord, CA
Cabinets - Custom, by Pritzkow Cabinets, San Ramon, CA
Drawer Pulls - Schaub Select 703PN Polished Nickel; Belmont Hardware, Walnut Creek, CA
Fan - Panasonic FV-20NLF1 Whisper Line 240 CFM Exhaust Fan; bought from Faucet Direct
Fan and Light Timer - Lutron MA-T51 Maestro Countdown
Faucets - Kohler Margaux; bought from Faucet Direct
Hand Towel Bars - Newport Brass 36-09 Keaton 8" curved towel bar; bought from Faucet Direct
Sandblasted Window - Custom, Lost Art Stained Glass Works, Pleasant Hill, CA
Mirrors - Channing Mirror, Williams Sonoma
Paint - Walls - Sherwin Williams Warm Stone; Trim & Ceiling - Kelly Moore Navajo White
Sconces - Visual Comfort Single Sconce Polished Nickel SS2011PN-FG
Shower - Hansgrohe 04220 C Thermostatic Valve and 28504 Raindance S Hand Shower Polished Nickel; bought from Faucet Direct
Shower Door - Frameless Door with Starfire Glass by All American Glass, San Ramon, CA
Sinks - Kohler K-2336 Devonshire 20" Undermount; bought from Faucet Direct
Tile Backsplash - Seagrass limestone honed 2x2s plus pencil; all tile - Western Tile, Dublin, CA
Tile Floor - Seagrass limestone honed 12x24
Tile Shower Floor - Basketweave Mosaic Honed Seagrass Limestone and Onyx
Tile Shower Walls - Jeffrey Court Classical Ivory Honed 9x18
Toilet - Toto Promenade CST424EFG-01; bought from Faucet Direct
Towel Stand - Newbury Towel Stand, Polished Nickel; Restoration Hardware
Towels - 1888 Mills; Amazon. Best towels ever!
Let me know if you have questions!