Having trouble with master bathroom design! Please help.
trulylisa
February 24, 2013
First off I really want to thank all of you. I use this website constantly for information on any home improvements, etc. You guys are the best.
Here is my dilema: Pretty much gutted my bath and cut off all plumbing. If you look at the picutre I posted you will see a partition wall that is 5" thick x 34" wide and goes to the ceiling. In that partiton is the plumbing vent that goes through the roof. I was told by a contractor that it would be hard to move and expensive. (also next to this wall is a 17" x 40" window that is causing me fits). It is because of this wall that I'm having some difficulty designing my new bath. I want a whirlpool bath (or a 5' freestanding soaker), a shower at least 48" (been living with a 30" x 30" shower for 20 years. My design is for a 32" x 60"). I also bought a new 72" double vanity (hindsight big mistake). I couldn't pass it up because it was on sale for $399.00 and was regulary $1590.00. It has messed up my design and also my color pallet. It has a granite top that is gray/silver/black/white speckles (I'm sure you all know what I mean... very common).
If you look at my design (below link) you will see that I have to attach the 32" x 60" drop-in tub to the shower and I will need to buy a custom shower enclosure (half glass on bathtub and a door to the right of tub). I will also have to put up another wall to add the shower fixtures. The other shower wall is an outside wall and in Pennsylvania we get fridged winters. The long wall is facing the shower door and I don't care to get water all over my new bathroom.
I have posted a link with the only way I can even think of designing this space because of standard tub sizes and shower sizes. I have a very limited budget. :(
If anyone can give me some design ideas I would so appreciate it. It feels like I'm cutting off my room with the shower and not utilizing the space properly. I would consider angle showers or any other type shower design. I just don't want a teeny tini shower. I would love to have a bench also but I think my shower is too small this way. Thanks in advance for any help you can give me.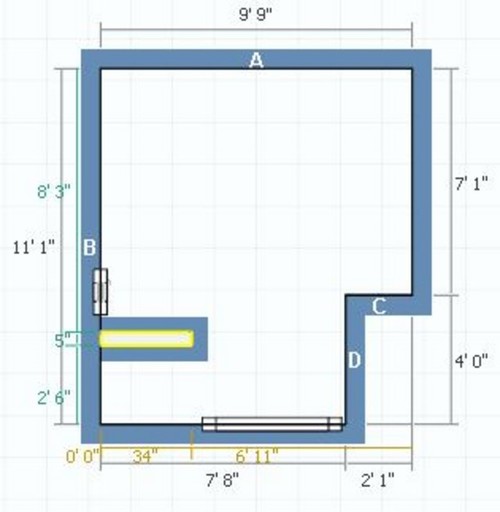 Here is a link that might be useful: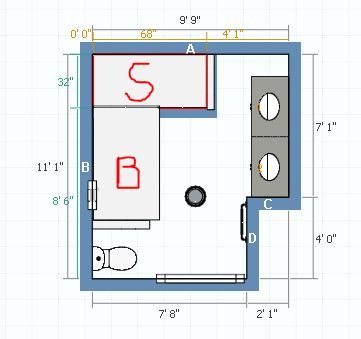 This post was edited by trulylisa on Sun, Feb 24, 13 at 16:58