Vintage silverplate cutlery
mama goose_gw zn6OH
December 13, 2011
I just purchased ap. 500 pieces of silverplate (one piece says sterling) for a grand total of $50.00. The seller had been collecting it to use for crafts--some of it has worn spots, but to my untrained eye most is in great condition. There are no complete sets--some have 20 or more pieces, some just a few, some single pieces. She had labeled many of the pieces with a date and pattern. Following are some of the makers/patterns/dates on the labels:
1847 Rogers Bros. 'Vintage' 1904
1847 Rogers Bros. 9 'Vintage' 1904
Holmes & Edward Pat.Feb.91 'Triumph' 1890
C.Rogers & Bros. A1 12 'Royal' 1890
Gorham Pat.1880 'Princess Louise 1881
Wm.Rogers Pat.1900 eagle/star marks unknown
Wm.Rogers eagle/star marks 'Prescious Mirror' 1954
Wm.A.Rogers A1 Pat.Sep13,98 'Carlton' 1898
1847 Rogers Bros. XS Triple 'Cromwell' 1912
1847 Rogers Bros. A1 'Vesta' 1895
Simeon & George H.Rogers Company A1 'Violet' 1905
1847 Rogers Bros. XS Triple 'Old Colony' 1911
Wm.Rogers Mfg.Co. Original Rogers 'Talisman' 1938
Community Plate 'Deauville' 1929
Rogers Deluxe Plate Original Rogers 'Precious' 1941
Vernon Silver Plate 'Romford' 1939
There are many, many more. I know it would be difficult to put a value on this collection without examining each piece, but does anyone have any idea if there is significant value? I bought them to use for large family dinners, but I don't need 500 pieces, so may try to sell the extras.
One group: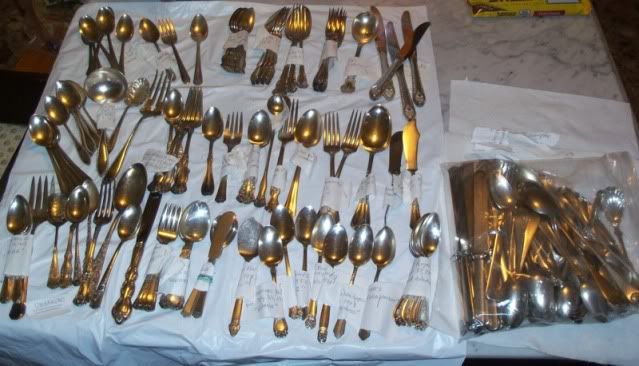 Next group: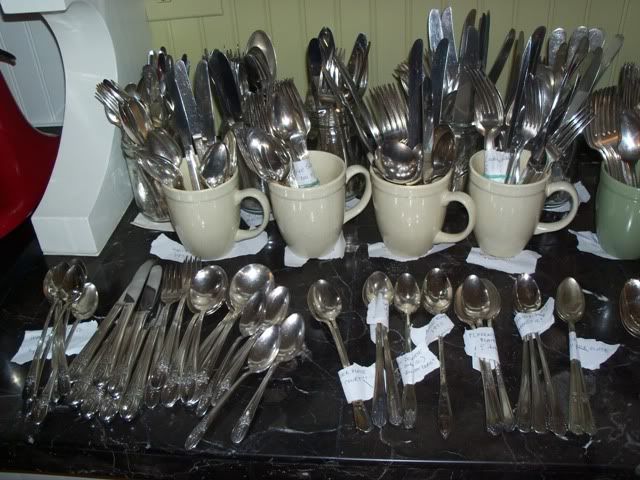 Next: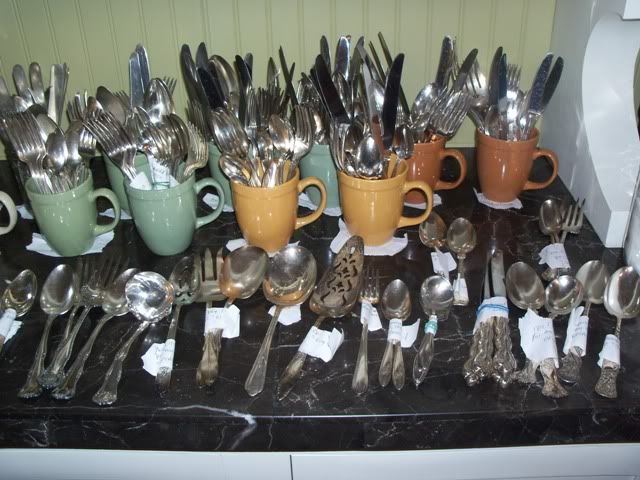 Previous two groups in one picture:
Close-up of several serving pieces: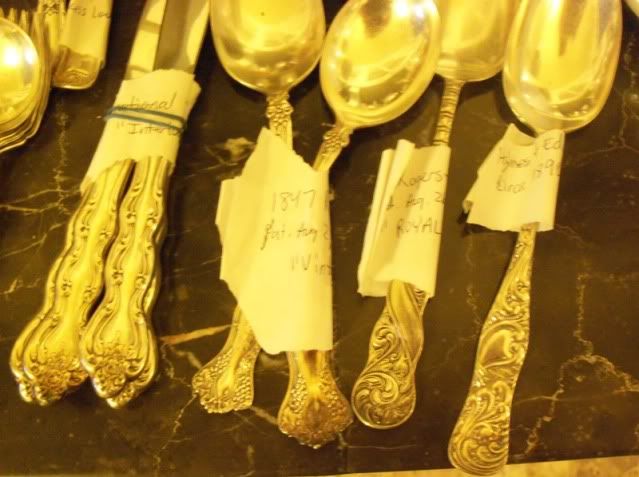 Also, does anyone know if it harmful to use cutlery that has worn spots?
Thank you!