Suggestions?
onewomanarmy
February 16, 2012
I had posted last week with a badly drawn approximation of our current bathroom. Since then we've found Google's free program and "built" the space in a much nicer format. So now we've been able to take our ideas and "visualize" them a little better. Following is where we're at right now - and subject to many changes I'm sure.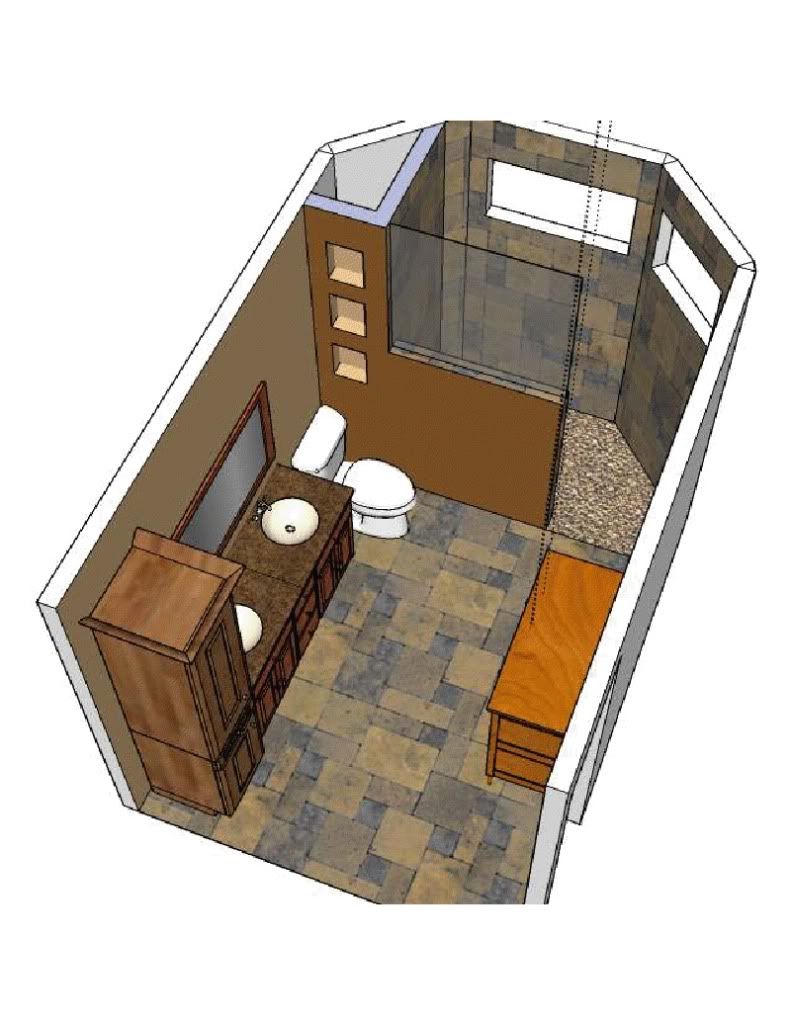 The shower wall dimensions may be off - not sure how tall/short or long it should be. Also, the color/texture/tile/furniture/etc options are fairly limited (unless you want to build your own I guess - which we didn't take the time to do) so the tile and furniture styles are just generalities. More like placeholders. We are considering slate for the shower - and I've been doing a lot of reading about the pros and cons of that. Still going back and forth. Also tossing around doing a concrete countertop with possibly a rust(ish) colored acid etch or something to pull out some of the variations in the slate. Floor of the shower in a "cobble" type tile (maybe a dark gray non-slate but slate looking that will compliment the walls). Not quite sure about the main floor yet. Actually not quite sure on any of this. :)
Anyway, thanks for all the suggestion previously - they did make us think about the layout a little more and led us to this stage. We're still tossing ideas around though and welcome any comments or suggestions from those who've been here before. We're still contemplating/discussing curbless - but will depend on what it will cost with all the modding of the current floor system. We have a drop down ceiling in the basement below but I believe there is a wall (with main house support beam) running smack dab through the middle of the shower area. Good for support - maybe not so good for accessing the space!