Bathroom Progress Update, Nearing the Finish.
I am making headway on my bathroom remodel which is in it's 9th month! I am nearing the end. I have posted varying degrees of completion, and many pictures of my concept plans and tile floor. All of these I am excited about using. I am just about finished with the tile. The white field tile is grouted but I have to grout the marble listello and the crown rail. The tile job is not perfect by any means. And you will see some un even-ness in the listello in a picture below where I had to be creative in installing an area, using tape. It is my floating tile area, darn. But this area will be covered mostly with a 10" tall back splash.
Here is one elevation of the sink wall that many have seen, and last appeared in a thread when I was trying to decide on a mirror shape and color: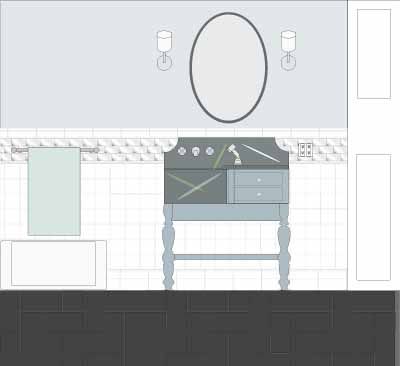 Here is another view the I seldom post: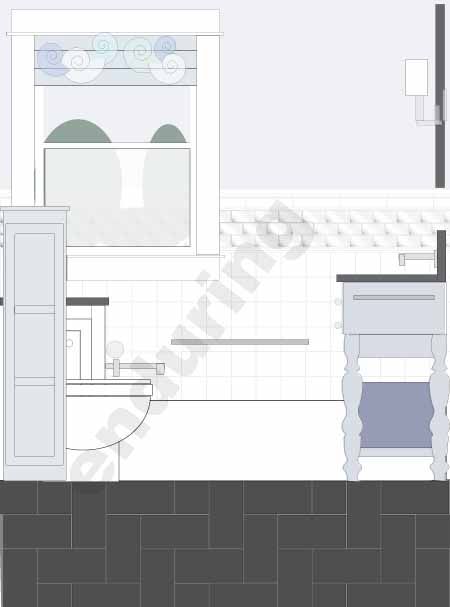 But now I want to reveal my new vanity. It arrived yesterday. The young man did a tremendous job on this. He took my concept plan and made it into a stunning piece. Don't you think so?

I think it is just so lovely. The paint color is perfect and the soapstone just sits in there perfectly. Last night when the lights were on it cast a light through the centerline between the stack of drawers and the sink. That light was dead center on the self below. There will be a counter that will extend to the depth of the sink, over hanging the stack of draws.
Brett did a fantastic job bringing my concept vanity to life. He didn't turn the legs but ordered them from Osborne Wood, online. I picked seven or eight that would be workable for style and for vanity size. He finalized the selection. The turnings were critical as well as the amount of unturned material to accommodate the plan. He got a 35.5" island leg and cut off 10" from the top. The bottom square was important to allow a nice junction with the shelf.
I have made my sink using soapstone remnants that I purchased last year. I'll link to a thread to the process that I have over on the Kitchen Forum. There are several updates on the construction over the last month or so. I started the post in the Kitchen Forum during the construction because there are a lot of soapstone inthuseist over there, and they love farmhouse type sinks.
Here is a link that might be useful: finally the Plans for Soapstone Sink Taking Shape!
This post was edited by enduring on Tue, Feb 26, 13 at 20:36