Please review our house plans
We've been working on these plans for a while, and I'd love to hear feedback!
The goal: Build a retirement home for me and my husband, where we plan to live for the rest of our lives. We want to incorporate amenities that'll allow us to be comfortable as we age, including an upstairs that'd be good for one of our adult children or a paid caretaker.
This house will be built on a small farm that we already own, and it's remote enough that privacy is not an issue. The back of the house (patio, pool, the large windows) will face west.
I'd call our budget moderate. We want something nice, tailored to our needs, easy-in-which-to-live, but we don't want to build something so large that it's expensive and time-consuming to maintain. We don't want to build rooms that will be used twice a year. We are looking at a cash build.
Things with which we're pleased:
- The downstairs is 1485 sf, which is moderately compact yet also allows for good storage and wide walkways. We want to stay under 2000 sf, so I think we'll have no problem adding two bedrooms connected by a bathroom and a small seating area upstairs -- and we want some walk-in attic storage upstairs -- but we're not that far down the road yet; we want to be more settled on the downstairs before we start talking upstairs.
- We have good windows /good lighting in every room.
- We've incorporated loads of storage /built-ins in every area -- large pantry, built-in cupboard for dishes, entertainment center by the fireplace, locking storage in the bedroom, and shelves in the study.
- We love the function of "the block" that is the master bath, closet and laundry. It seems to have a good flow. I like the idea that we can come in from the pool /hot tub, and cut through the laundry room and closet, dropping swimsuits off in the laundry as we go.
- We're particularly concerned about building a bathroom that'll accommodate our needs as we grow older. The no-barrier shower is 4x5' and will contain a Tornado body dryer. Towels will be hung on the angled wall between the tub and shower. The tub will be used every day, so it's a must-have, and we imagine the bay window flowing straight out from the tub deck to form a flat space for plants and candles. The toilet is set in a not-quite 40" open area so it's accessible with a walker or wheelchair. The weak spot here is that we don't have a true linen closet. We'll have a cabinet with shelves above at the foot of the tub, and that'll hold towels below and a TV above (husband loves to watch races and football from the tub). Bed linens will be stored under the window seat in the bedroom.
- The living room is not so large that it'll feel oversized when it's just the two of us, but the sofa could be pushed back, or dining room chairs could be brought in to form another row behind the sofa when we have a larger group. Realistically, this isn't going to happen often -- our nearby relatives have larger homes, so we're likely to gather there for winter gatherings, and since we're going to build a pool and a large patio /outdoor kitchen, our house'll be the summer-place. And we're in the South.
- With 45 acres, we have almost unlimited outdoor space, and we will be able to store tables /chairs in the garage.
- Along the same lines, the dining room table won't feel disproportionately large when it's just the two of us, but the space could handle 8, if necessary.
- The study will function as a private spot for the two of us to keep clutter-y projects, to use the computer or read in quiet, to store books and games on the shelves, etc. I like that it'll keep the bedroom a bit private.
Things I think could be better -- would really like advice on these:
- We have three doors in the entryway, which seems cluttered. Note that the back door is only accessible through the garage -- we want guests to enter through the front door. The coat closet won't be used much (again, we're in the South). Guests can set their things -- keys, purses, etc. -- in the study.
- Still at the front door, I'm not sure about using a split 36" French door (two 18" doors) on the study . . . on both ends of the study. We've put it in because they'll stand open most of the time, and these smaller doors'll be out of the way. I know that placement of light fixtures is a nightmare with these doors, but this is my plan: We've already bought a ceiling fan that has a stained glass "night light" above the fan, and we're thinking of setting that to work as a motion-sensored light. This means that when anyone enters the study (from either direction), a soft night light will come on . . . and that'll either be enough light to allow you to walk through the room, or it'll be enough light to allow you to find the lamp, which will be the only other light in the room. Obviously, these doors would be covered with pretty curtains, attached at top and bottom -- I like that look.
Am I rationalizing too much about these doors? Should I go with pocket doors instead?
- Same problem at the back door: The garage door and the powder room door are close together, and with a pool, this powder room will see a great deal of use. I went with a pocket door here -- your thoughts? Yes, I had considered flip-flopping the shower and the powder room, but I did want to keep the little window for natural light in the powder room.
- The giant staircase eats up almost as much room as the study or the kitchen or the dining room. It's hard to justify this much space for a staircase, but I can't seem to get a smaller, straight stair in this space -- I tried hard to make the stairs fit where the study is, and it just didn't seem to work out. Now I love the study as an ante-chamber to the bedroom. The stairs are 4' wide and have a comfortable-to-walk-up tread. And I love the idea of a pretty staircase overlooking the living room so I can decorate it at Christmas.
- In the living room, I'm imagining this type of set-up, from the left: Staircase . . . single floor-to-ceiling window . . . fireplace . . . low entertainment center (with doors) topped by a short, squatty window. Kind of typical of Craftsman fireplaces with built-ins.
- People who approach the house will approach from the "staircase side", then park towards the front of the garage. This means they'll have to walk around the "bedroom bump" to reach the porch. Thus, I want to bump the porch out far enough that people won't feel like they're walking around to . . . well, nothing . . . but I also don't want to over-do the front porch, which is really just for show. Thoughts?
The porch will be decorated for Christmas and for some other holidays too. I definitely want a porch railing for lights, etc.
- I don't think I'm loving the front windows. They work great from the inside, but how about the outside? On the left of the house, where the staircase is, we don't really need any windows for, well, window purposes . . . but I think we need something there for balance. I definitely want to keep the double windows in the study, but the split windows work better for the bedroom (the bed won't fit as nicely if we place it on the other wall).
I should've said this up front: We want the exterior to be a Bungalow, kind of like Craftsman's not-so-fancy little brother. BUT if the second story doesn't work out with that flat-room concept, our second choice is a Southern farmhouse with a couple dormers. I'm thinking that this might work better because of the staircase position; that is, it might be necessary to have a full two-story on that side to accommodate the upstairs landing . . . and I'd be fine with a country farmhouse.
Whatever we do must be all brick -- deep red, if we go Bungalow, whitewashed, if it's a farmhouse.
Thank you in advance for your ideas. Let 'em fly -- I can take criticism!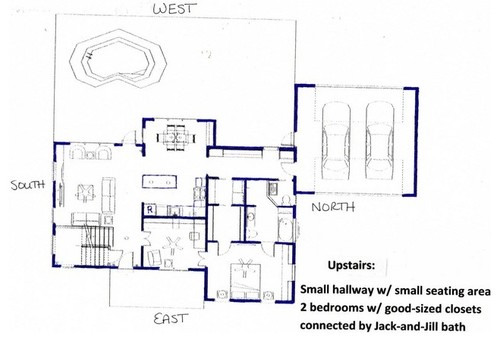 This post was edited by MrsPete on Thu, Jan 16, 14 at 13:55