Floor plan review please
I would really like some input on this floor plan before we finalize it. I'm largely happy with it, but think the laundry/bathroom can likely be made better.
We bought the original plan and made several modifications, most importantly widening the kitchen and master BR to fit two bedrooms for our two kids upstairs. The original laundry room was made into a mudroom, and the half-bath and master WIC was sacrificed for a large laundry room with ability to hang-dry clothes.
The in-law suite above the garage will be used for frequent guests. The basement will be a walk-out, and will contain an office, movie room and storage (layout not yet determined)
The south-facing deck will be screened, but the two other windows plus a smaller window over the deck (vaulted living room) will make it bright enough (I think...). I've minimized the north-facing windows, and kept the garage-doors towards the east due to cold climate and lots of wind.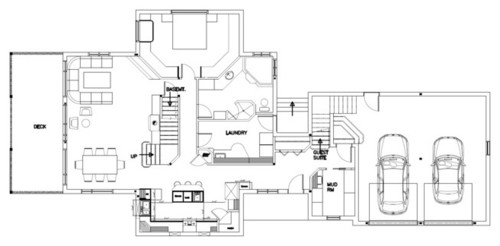 Here is a link that might be useful: original house plan