Framing a tub deck/surround
There are different ways to skin this cat. Here's one way.
I don't have a decent step-by-step set of pictures, these pics are a byproduct of another shoot.
I always set non-cast iron tubs in a mortar bed. If your floor is not level, this allows you to level the tub. If your floor is level, then you can either set the tub, feet and all, in a thick bed or you can set the tub in a mortar bed and displace enough mortar so the feet of the tub touch the subfloor. Or you don't have to use mortar. Your choice.

ABOVE: Your tub will have a specified distance from the bottom of its rim to the bottom of its feet. In my example I used 19". Assuming I use a 1" (1" thick after the tub is set and mortar displaced) bed of mortar under the tub, my finished deck needs to be 20" off the floor or above the platform.
Assume:
1) Tile plus thinset = 3/8" thick
2) 1/2" cement board plus thinset = 5/8" thick
3) 3/4" CDX ply = 3/4" thick
Add those three together to get 1-3/4". Subtract that from 20" and I want my framing for the tub deck to be 18-1/4" tall.
Using 2x4 material, the top and bottom plates (framing pieces with an "X" on them) will be 1-1/2" thick (maybe 1-3/8, measure your wood), so my cripple studs will be 18-1/4" - 3" = 15-1/4" tall.

ABOVE: The above pic is not a great example, because in this case the Lady of the House wasn't certain how high she wanted the tub to be. So I built the frame for the deck, stuffed it in place, and elevated it with the small pieces of 2x4 you see up against the walls. This allowed my to raise it or lower it as needed. Once the height was settled upon, the deck frame was leveled and screwed into the wall studs (do NOT use drywall screws!) and it was then under-filled with cripple studs to properly support it. Get the deck level.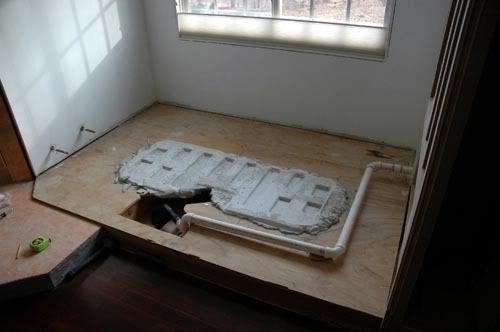 ABOVE: I'm including this pic as it shows what a proper mortar bed looks like after the tub is set. You can see this tub had full support. You won't get that with canned foam.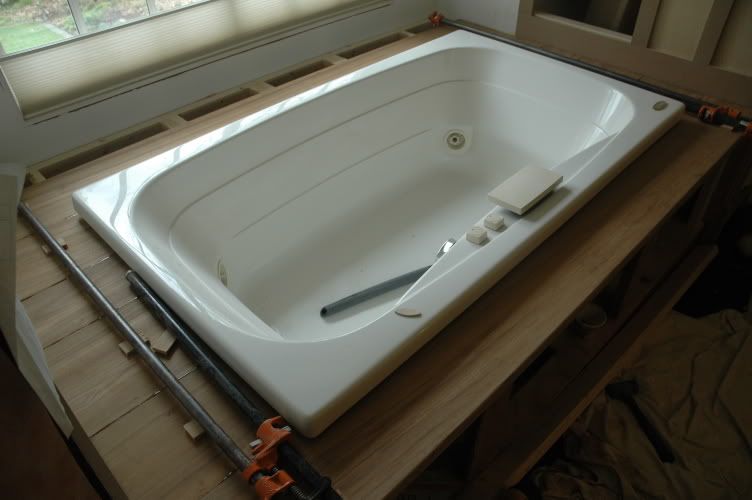 ABOVE: Instead of a tiled tub deck, this one is teak. This shows the deck after it was epoxied up in place.

ABOVE: Three coats of a good urethane. Shiny because it's wet.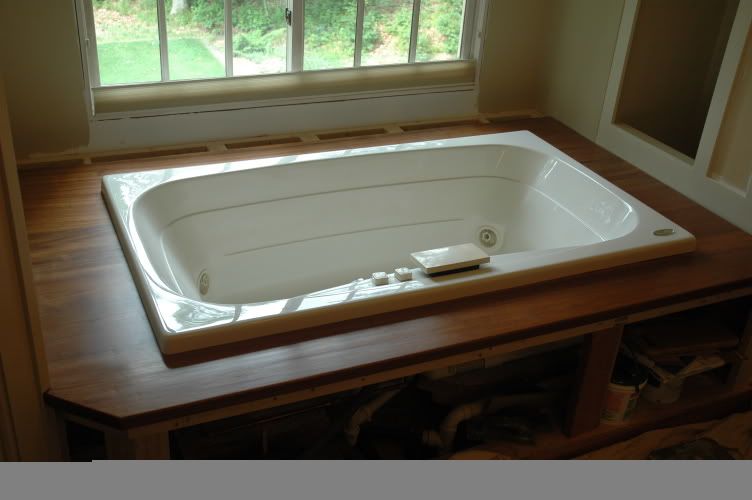 ABOVE: After the third coat, a nice satin finish. You can see that the teak deck doesn't reach all the way to the window wall. Later I installed a raised teak window sill that was about 7 or 8" deep.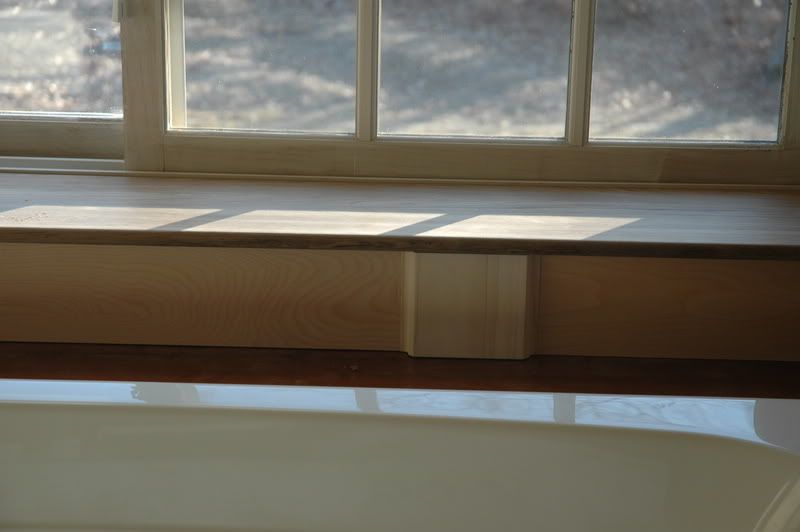 Above: Here's the raised teak window sill. It hasn't been urethaned yet. The tub deck is 8/4 teak, the window sill 4/4.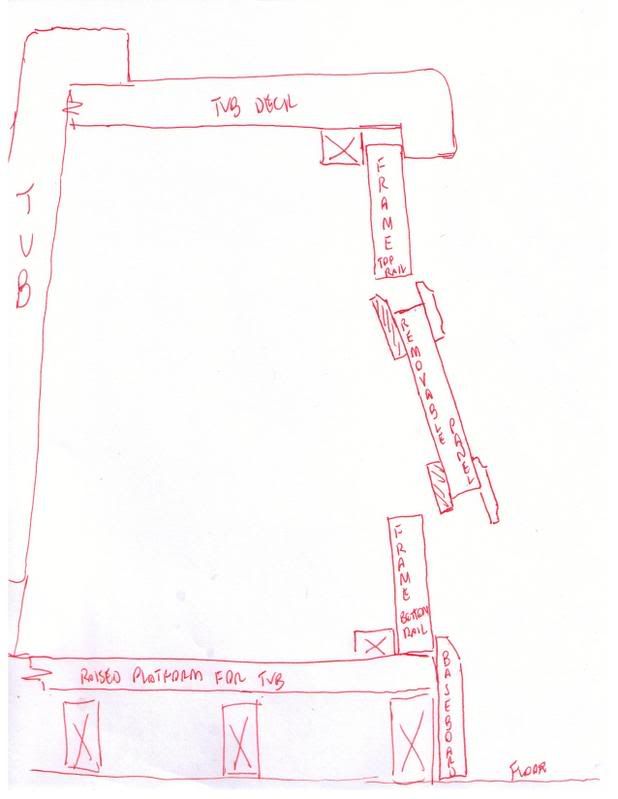 ABOVE: A drawing of how I built this apron. What I like about this apron is that any of the three panels can be lifted and rotated out to gain access under the tub. Or the entire face frame that holds the three panels can also be lifted up and rotated out to gain access to the entire front of the tub. No tools required.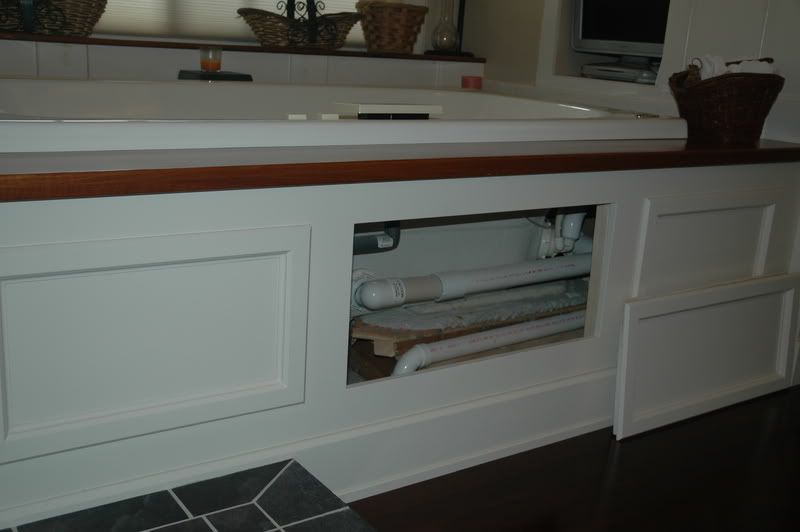 ABOVE: One panel removed.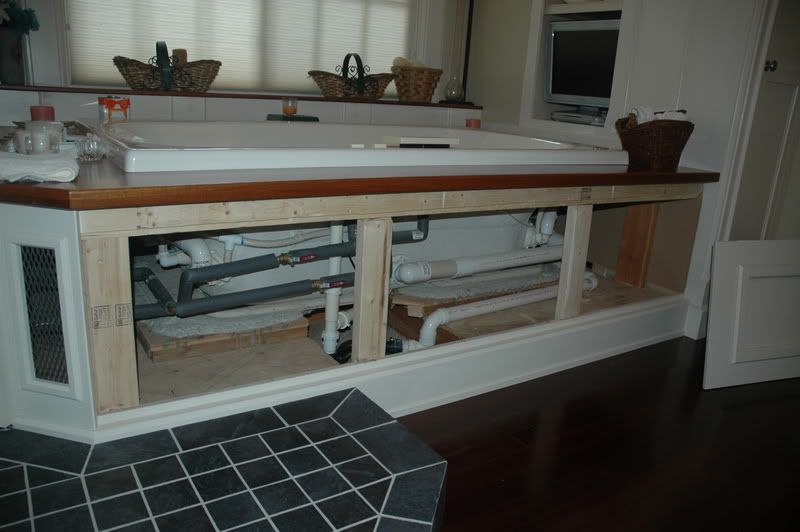 ABOVE: Then whole face frame removed.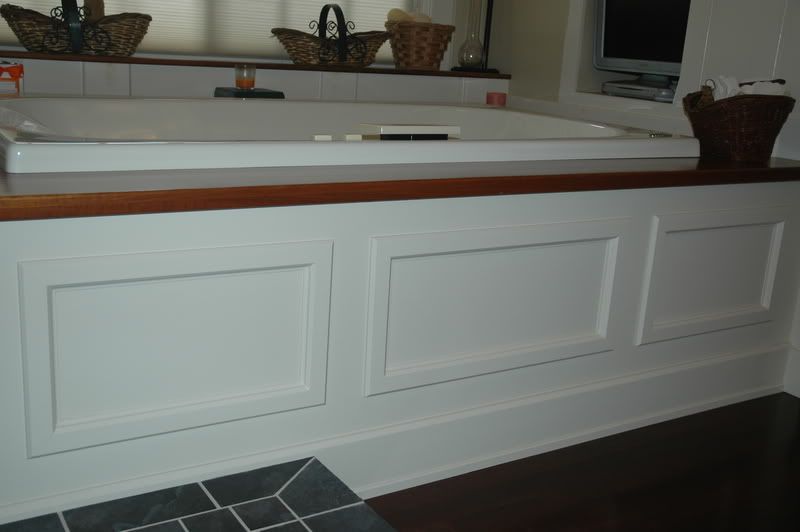 ABOVE: Everything in place.