Marble floor was sealed and it looks like dirty windows!
sparklebread
January 22, 2013
I hate to be the problem poster. But here I am, again. Hopefully someone can learn from this. Tile guys sealed master bathroom floor this morning. (honed marble) Told me to wait 4 hours cure time. Went in this evening to take a peek and it looks like my eight year old dd's attempt at cleaning the windows. It looks horrible and this is not even in the daylight. The streaks do not wipe off with a damp rag. I am sick to my stomach. (Second glass of wine hasn't put a dent in the emotion!) Contractor will be here in the morn. In the mean time, as usually, I am trying to get a basic idea of the issue.
Could this be sealer residue? Is there a fix? The floor looked better before sealed, I am certain of that. Tile was grouted a week ago.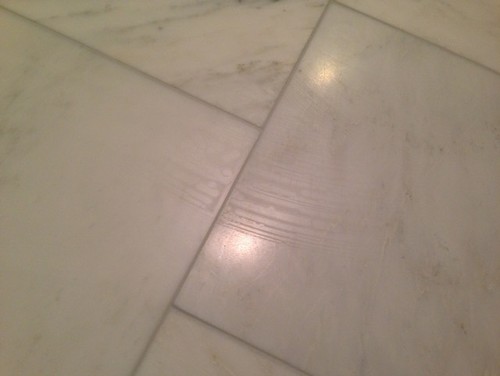 This post was edited by sparklebread on Tue, Jan 22, 13 at 21:46