Building First Home - Help! :)
New question added in post #7.
Long-time lurker/learner, first post. Main reason for not posting up until this point is I am fairly new to the world of construction and really don't have much to add. :)
Ok, I will try to keep this as concise as possible. My wife and I are building our first home in the spring. We just closed on our lot (~6 acres) and have our floor plan finalized, we're in the process of getting bids for the things we will have to hire out. We plan on doing just about everything ourselves; electrical, plumbing, HVAC, drywall, and foundation are about the only things that we're going to hire out to save money. Father-in-law who has been a contractor for 30+ years is helping out so that has made things much more doable for us.
Here is the rundown of our house:
-1,600 sq/ft on main floor
-1,600 sq/ft in basement
-3BR, 4BA
-Attached 3+ car garage
-8' ceilings throughout the house, will have several tray ceilings to give it a more open feel.
-Hip roof, 5/12 pitch
-Rather flat lot, slight NE to SW slope, not much at all
My main question, at this point, is what to do about the garage elevation. We are doing 8' ceilings throughout the house & basement, but I want at least 10' ceilings in the garage to allow for extra storage on the ceiling as well as resale down the road. Since we are doing a hip roof (rather set on that) how do we achieve the extra 2' in height?
One thought I had was to simply make the garage 2' lower than the house and have the foundation guy run 2' of block up the walls then we could build an 8' wall on top of it which would match up with the house. My only concern with that is creating some sort of drainage problem between the attached garage and house.
I have attached a super quick outline of our floor plan to give you an idea as far as the layout of the house and garage.
Thanks in advance for any input!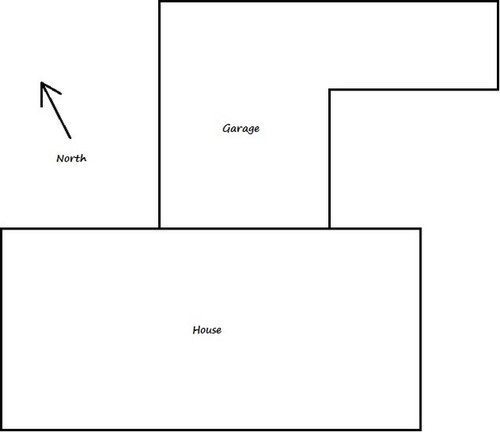 This post was edited by Ryan_33 on Tue, Jan 7, 14 at 12:37