Starting from dirt- literally! A basement bath DIY Adventure
Warning this is long and wordy, but if you're patient, I could really use advice/ideas/offers of valium.
Hi there! I'm Hunzi.
Yes, it's me again. I know you don't remember me, because I've been sporadically reading and planning this project for about a decade now, but it's finally going to happen!
So here's what I have. Dirt. No, really...we started with an amazing space in the corner of an unfinished basement in an 1884 farmhouse. A previous owner had installed a "shower" consisting of a raised wooden pallet type platform floor, corrugated plastic walls, and a shower fixture plumbed with garden hose from what I think were old laundry hookups. This fabulous assembly was to supplement a main floor "full bath" which had a toilet/sink/tub, but was installed with near equal quality - yes, that's really an electrical wire cutting externally across the corner of the tub! Yikes. We just lovingly call any poorly done DIY job in the house a "Mr. G--- job".
So we've spent the past 20 years, fixing up all the Mr.G jobs, and while we are also 99.9% DIY, we're card carrying complete obsessed over-engineer it types.
That amazing shower was removed post haste (one of these days I'll check to see if I took a photo), and we have made due all these years with the shower in the claw foot tub on the 2nd floor (obviously installed by pros back in the 1920's before MrG got his hands on the house), while the plans for the basement have slowly bubbled and evolved. What was originally going to be a play room for the kids (DS was only 3 when we bought the place, DD was not yet a twinkle in her daddy's eye), last year finally became a bonus room for the now DS/Grad Student to live in until he can afford his own place then its future lies in either ManCave or home gym.
Somewhere along the way, that corner with the shower evolved from really scary home to spiders to maybe we can use it as a laundry room/bath combo, to you know, we really do need a 2nd full bath in this house, since I want to remove the other (main floor) Mr.G Special Bathroom and use that space for a kitchen reno and just tuck a powder room into an old pantry.
Back to the dirt. Apparently the basement was originally non-existant. Previous home owners dug it out in stages, first to make room for a boiler and coal room added in 1925, then the rest was dug out later we suspect. Not a bad amount of space, properly dug with respect to foundations. But it must have been a dirt floor for quite a while until someone (I'm still blaming MrG (bless his heart)) poured a concrete floor - not just any old concrete floor, a "just cover the dirt - no worries about making it level or making sure there's enough thickness" concrete floor. Level wasn't in his vocabulary.
So about the time, DH decided to remove the fabulous fishing camp shower, he decided he'd remove the concrete covering the section of the floor that would become the future bathroom, because he'd have to tie into the sewer stack in several locations and gosh darn it, once he started and found the concrete varried in depth from 1.5 to 4 inches, it all had to go.
You do realize, there were years - YEARS between DH tearing out the concrete and now, don't you? I've lived with a 9x10 patch of dirt in the corner of my wavy concrete basement for at least 10yrs, maybe longer - I'm trying to black it all out.
Problems -no time, no money, more no time, more no money, trivial stuff like military service demands getting in the way etc. So, I'll cut him some slack.
Still, when DS needed to return home - finally the fire of FIX the BASEMENT was lit (to DH's credit, many other projects in the house were done in the intermediate years and the basement was always a low priority). It didn't hurt that DS couldn't just move back into his old room because it is now being occupied by our 2 adorable teen aged Chinese exchange students (16 & 17 yr old girls) who moved in this fall and will live with us this year and next while they finish high school. DD is a freshman in college this year, but home frequently and wouldn't have let her brother borrow her room anyway! So the basement became priority one finally.
Finished off a living space for DS, and finalized plans for a bathroom and laundry room (now separate).
Ok, that's the backstory.
Now back to the dirt yet again. - DH is preparing to make all the stack modifications and plumbing rough-ins this weekend. (Everyone light a candle and say a prayer for us!) This will rough in the plumbing for the basement bath, the main floor powder room (goodbye MrG 1950s Bathroom From Hell) and laundry room.
Next up will be pouring a new slab in the dirt space - no, really, this one will be properly thick and level.
However, now there's stuff I need to be sure of - before Dh decides to order concrete.
Since DH didn't tear out the entire basement floor (we now all say Thank You Baby Jesus!) he wants to meet up with the existing concrete level (yes, we know it's not actually LEVEL, but the laundry room section of the basement is within "You Can Fix It with SLC" range vs OMG, they dropped the part around their "floor drain" (aka the fishing camp shower drain as well - don't get me started) nearly a foot (a very wavy foot).
So QUESTION #1:
Since we can set the level of the concrete slab whereever we want (within reason), I need to know how much I need to allow for the stuff that goes over the concrete slab - the thin set, Detra/some decoupler, more thin set, plus a 1 inch hex type tile - so that I can meet up with the laundry room floor which will have SLC, plus same tile (and all required under-prep).
I'm also working with a minimal ceiling height of 7ft (remember it wasn't planned to be living space when they dug it out), so I can't get crazy and not worry about the amount of space that gets leftover between finished floor and finished ceiling.
How thick is all the usual tile on cement stuff? Assume a small hex type tile of the Home Depot variety.
I just need to know if I need to tell DH to be sure to set the top of the slab X.0 or 0.x inches below where we want the final finished floor.
Once all this OMG I HATE PLUMBING drama is over, we can discuss all the more fun parts - details on tile, all the 1000's of other things you'll realize I haven't thought about.
Goal is a not overly expensive but nice looking full bathroom - we'll reuse the toilet and tub from the MrG Main Floor Special - might upgrade the toilet eventually, but pretty sure the tub/shower combo (basic steel tub, nice shape/size/depth) is staying.
Powder room is sort of intermixed into this project, but not completely because darn-it, I need to gut the kitchen to get the PR door in the right place but at least the toilet will be roughed in to the right location and the weird combo of MrG's Main Floor Special Bath/my kitchen pantry (another story for another day), will no longer exist. And that will be Phase 2, after the basement bath and laundry project is done.
So, how thick is the tile stuff, and we'll need to chat about radiant floor heat vs something like WhisperWarm or heat lamps. (This bath will get light/moderate use once DS moves on, and there's no direct heat source in the basement - it's relatively warm & dry due to the very large, very old cast iron boiler which radiates much heat, but now that's closed off in a utility room and there are several walls between it and the bathroom - so it's cooler, but not uncomfortable in there, and I'm not noticing it feeling damp (even with the still dirt floor), but I want to be sure there aren't any issues.
Eventual look and feel of this bathroom is 1920s/Art Deco classic - not over the top, but a nod to the past. Hex tile floor, possibly unglazed, also running into laundry room, black & white color scheme - subway tiled bath, pedistal sink. Simple but we all know simple is never simple to create!
So, hopefully someone made it to the bottom of this - or you'll all just click NEXT everytime you see my name. ;-)
I've read a lot here over the years, admired many bathrooms, mostly in silent awe.
Hang in there, I'll reuse this thread for the whole basement bath adventure, which knowing us, could take the next year or two! ;-)
Here we go.
Always ;-)
Hunzi
Photo of some of MrG's fine work (Located in the 1950'sBathroomFromHell). Yes, that's really a live wire.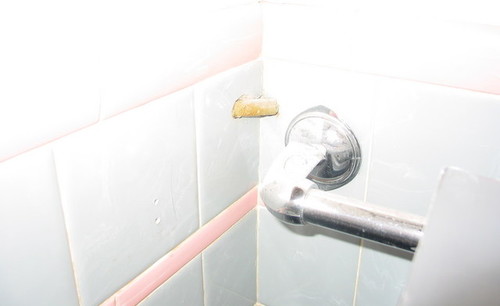 This post was edited by hunzi on Wed, Mar 5, 14 at 11:34