Thoughts on bigenerational layout?
NashvilleBuild42
January 18, 2014
Hi. I'm back. With more questions. As I'm on my iPad I can only post 1 photo at a time so i will have three additional follow up posts.
Background:
We are a family of 3 and will need a house that has a separate apartment for MIL. We spend the majority of our time outdoors and feel okay in places many would considered cramped. And summer weekends are largely spent at the lake house. In my opinion less space means more energy efficient and less for me to clean :) So I understand that many will think this house is just too small to begin with. However my questions are more about particular room size and functionality.
At first I thought there was no way this plan could work as there are only 2 BRs upstairs and 1 bath. However there is a large storage area 15*20 behind the garage. I'm thinking we could convert that to a family room/play room with a 3/4 bath. This would give us the extra space we need. Is that feesible? I'd also like to add a door to the backyard in that playroom area
Other questions:
1. At the top of stairs the layout shows a desk. Do you think 2 eames leather chairs and 1 ottoman woul fit there without impeding traffic? I'd love to places shelving for books along the stair wall... Thinking it could be a place to read or for two people to chat.. Or do I need to extend the width of the house a few feet to get that small area?
2. We have had small galley kitchens before that functioned brilliantly. But is 10*10 adequate for the L and island? We'd probably do a sectional but just one smaller mcm wood arm chair in front of window where plants are drawn. Plus a cocktail table...
3. Any suggestions for squeezing in a half or 3/4 bath downstairs in large room behind garage?
4. I like the glass railing on covered deck. However husband would prefer a cable and post railing. Will that ruin the aesthetic of the house? Which is safer?
Any other general thoughts? I would appreciate hearing from you.
Floor plan and rear elevation to follow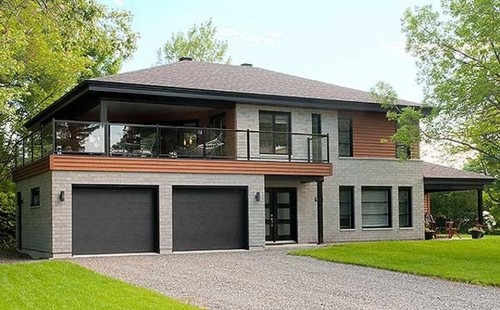 This post was edited by NashvilleBuild42 on Sat, Jan 18, 14 at 1:46