Help with Layout
Kitchenin2013
January 3, 2013
We are having a real hard time coming up with a reasonable floor plan for a remodeled master suite -- we're faced with a few constraints, the entrance to the room and the locations of the shower and the slider have to stay the same.
I produced a few alternatives to this layout (the current is probably version 12), that included a hallway to the room, with a combined bathroom and closet. Locations of the doors to the bathroom and closet varied quite a bit. In the end, my husband and I weren't comfortable with the number of doors and entrances to the bedroom as we felt like it reduced the amount of livable space. We're so desperate for help that we've tried to post on multiple locations: Here's our discussion on Houzz, see link below.
We're open to all suggestions. Thank you again in advance!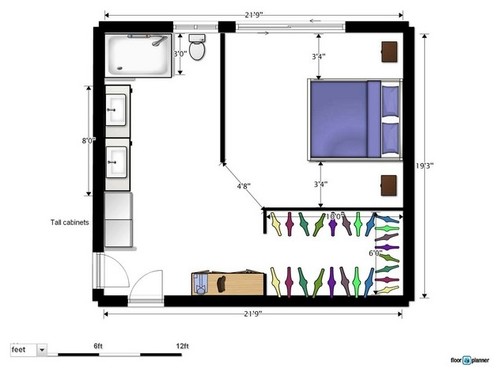 Here is a link that might be useful: Houzz Discussion