Hex tile and grout colour questions, answered
Hello Nutherokie and Onelady,
You asked about the tiles and grout colours in this picture: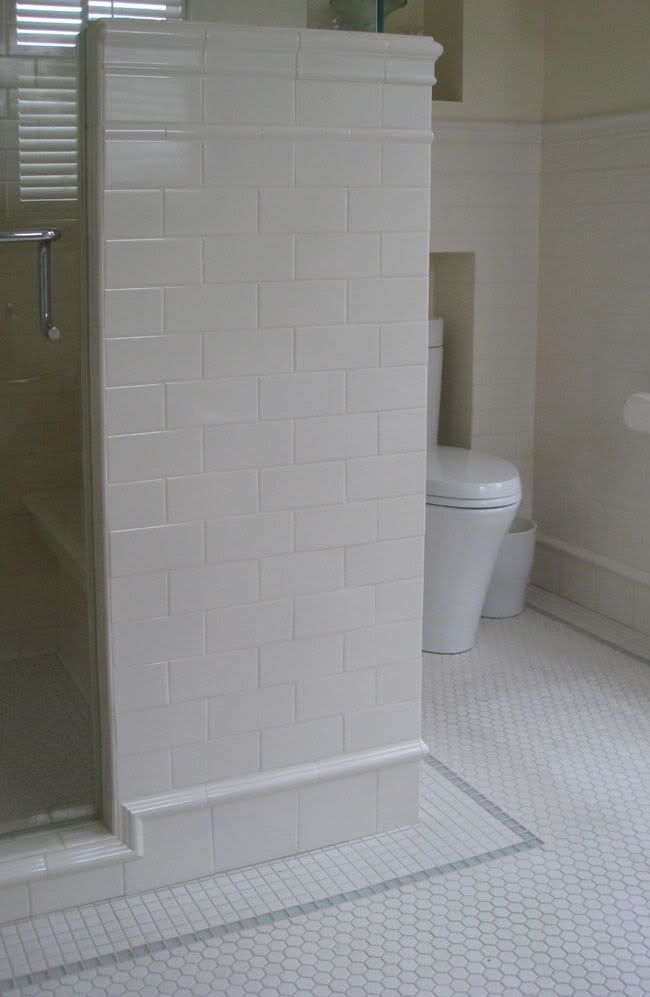 The hex tiles in our bathroom are from Daltile. They are 1 1/4" inch hexagon, unglazed, through-body porcelain tiles. I think they come in black and white only. We originally had tile samples from a boutique tile shop and only when we were hunting for other tiles did we realize that they were Daltile. The boutique store was charging almost 3 times the price as some other retailers.
The grout our tilesetter used is an unsanded grout from Germany, which we left unsealed, except in the shower. It is a brand called Fugenbunt. The floor grout colour is Topas 036, a light grey. It hardly shows the dirt (and I am not a fastidious housekeeper), but it does darken, just slightly, between cleanings in the higher traffic areas. So i would probably go just a slight shade darker, if I were to choose again. The colour in the photo is a good representation of the shade I would choose (i.e. slightly darkened from use).
The wall tile grout is Jasmin 003, an ivory colour, and good match for the subway tile. We are going to use the same tile on our kitchen backsplash, but with a light grey rather than ivory grout for a more period look.
Here is a picture of our bathroom tile wall before grouting. You can see the definition between the tiles more clearly, and I think it looks more Victorian than the grouted tile in the finished picture.