trex under sill plate...picture...?
andrelaplume2
November 24, 2009
The photo below shows the closet framing I am doing. Actually, 6' will be a closet with 36" sliding hollow core doors, the second 6' will hide a water heater and water softener and the final 5' will have accordian doors. Note how I built my middle column. Is this OK or should I build a wall perpendicular that runs back and divides the closet from the water softener.
Next, I need to add a column just to the left of the washer infron of the corner of the sink...which may or may not have to eventually be moved over a bit. Well the floor starts to slope her towards the floor drain. I think I am ok where the column goes...its pretty level. My concern of course is water. Obviously I'll use the blue sill seal stuff under the pressure treated wood but then I wondered if it would not be prudent to put a piece of 5/4" trex under the pt wood as well..to elevate it in case of a flood. Is that code compliant, structurally ok...a good idea...foolish????
I am not sure the column is really providing much in the way of support to the 36" holow core doors but it will make the area look more divided.
Thoughts...
middle column: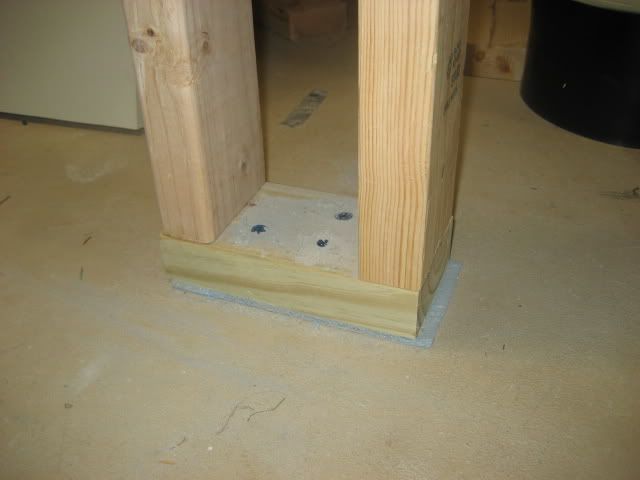 area for second column by drain...use trex under pt wood?