White Subway Tile tub/shower remodel
We had a leak so we reluctantly tapped into our emergency savings account and started to create something beautiful and functional. The first step was to remove an old tub and tile surround, including old aluminum windows that wouldn't slide any more. We replaced them with vinyl retrofit windows with "Industrex" privacy glass and chose a non-opening window for the shower.
The tub is a Kohler Synchrony K-1195-L with the integrated tiling flange. The fixtures are all from American Standard "The Standard Collection." The toilet was the only thing we saved - it is a Kohler Memoirs Classic elongated.
The wall tile is Daltile Rittenhouse Square in Arctic White with a Portobello White Line Bordura accent piece which measures 1.5" x 8" and is installed 69" from the floor. The window sill is a white-gray marble with a polished finish.
The floor is Cerim "The Wood Collection" porcelain wood-look tile in the color "Ellinton." We chose two of the 3 available sizes - which measure about 20" x 8" and 16" x 6".
The walls and ceiling are painted in Benjamin Moore's Bleeker Beige (really Behr paint purchased at Home Depot). The door is a Simpson Shaker-style 5-panel. The trim was crafted by my husband out of MDF-thanks so much to posters on this forum who inspired the design.
The exhaust fan is a Panasonic WhisperLite FV-07VQL3 and the switches that control it are Leviton 6260M and 5634. The curtain rod is a Myson in a chrome finish and the curtain is a nylon "The Traveler".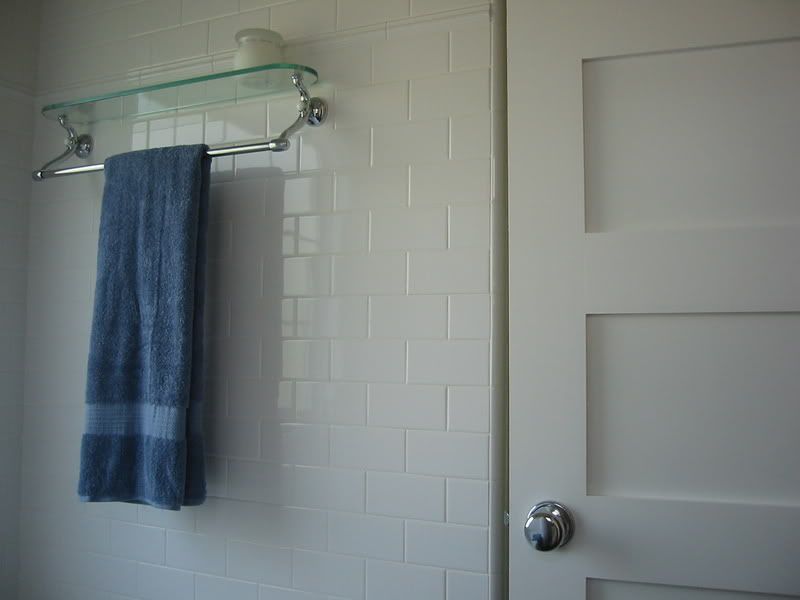 The photos are in my Photobucket account: http://photobucket.com/albums/v399/MadamX/Bathroom%20remodel/ and the password is Maggie
Enjoy!
Here is a link that might be useful: Password: Maggie