Anyone recognize this old stoneware mark?
I can't locate the mark yet.
All I know is this crock has been around as long as I can remember. Other than the cobalt, there is no other mark I can locate anywhere on it. Interior is brown glaze. It has an old crack below the mark that goes underneath to the bottom, but it doesn't go all the way through to the interior. At the top of the crack on the front it has a spot similar to what a cigarette burn would leave, only it's too big for that, 3" x 2" or so, don't know what caused it. Resting against metal for years, maybe? Old grease? The much bigger stain on the side actually does appear as grease would, perhaps seeped through the glaze? (This could well have come out of an abandoned rural outbuilding, last used in the 40's, but had much older stuff in it, including old rusty and/or greasy, gunky farm implements. If it came out of there hard to tell what it was resting against.) Also a good chance it came from one of the Ohio companies. However, Red Wing has an old mark that's similar, it's a 'close but no cigar' deal. But so far it's the closest I've found. As in here (top of page) or here.
I'm hoping for a mark ID with a ballpark date range. I'd be curious as to a value. I realize the flaws don't help the value at all, but this is much more a sentimental piece and the flaws don't bother me in the least. I'm so used to looking at them they are part of it.
Appreciate any assist I can get! :)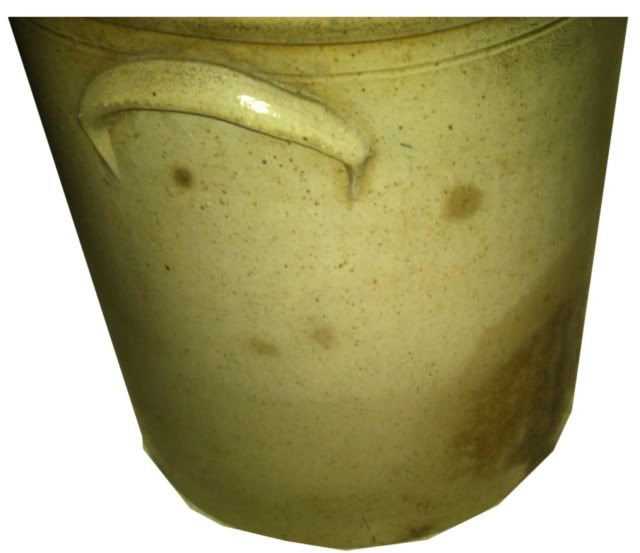 The bottom is actually quite dark, I tweaked brightness/contrast to show there are no visible marks there.