Help with basement layout in new build please
Hello all,
We've been reading GW for a year or two while we plan our new home. We love all the ideas we've received. We have gotten some great suggestions for our main floor and second floor on the Building a Home forum. I've included our current plans for the basement hoping to get some feedback on our basement layout. FYI, we have 2 daughters (6 and almost 5) and a son (almost 2).
The basement will have a walkout on the right side (not to the back). The right side faces east. We'll want a small patio outside the walkout doors and a walkway leading to the backyard/pool. We're planning on doing 9 foot ceilings in the basement and using drywall ceilings instead of drop ceiling but are open to suggestions. We want a home theater that is roughly 15 wide x 23 deep. For our bar, I would like comfortable seating - maybe wrap around bar seats or even a lower height bar? Thought about maybe doing a straight bar and a love seat/couch instead of a L shaped bar but also open to L shaped bar to replace the love seat. We're willing to completely change the bar area. We want a large TV behind the bar that can be seen from the ping pong table and poker table. We want an open area for a ping pong table. For the exercise room, my wife and I would like to be able to do P90X at the same time. I think we'll need about a 15x10 open area to do this together. This 15x10 area will also be used for a golf net to hit golf balls. I've estimated that I need 9' 6" to swing a golf driver - doubt this is doable since we'll be doing 9' ceilings in the basement but considering leaving the ceiling exposed in the exercise room and painting ceiling area black to maximize ceiling height. We'll have a squat rack, bench press, treadmill, free weights/dumbbells, and possibly a stationary bike. We're thinking French doors from the exercise room to the open area but are open to suggestions. We'll need a bathroom and an unfinished area for the mechanical room and storage. On the sketches I created, I was unsure if the basement would be dug out underneath the mudroom and pool house, which are both off of the garage??? Not sure how much more it would cost to dig this out, but it would be used as storage if dug out for basement.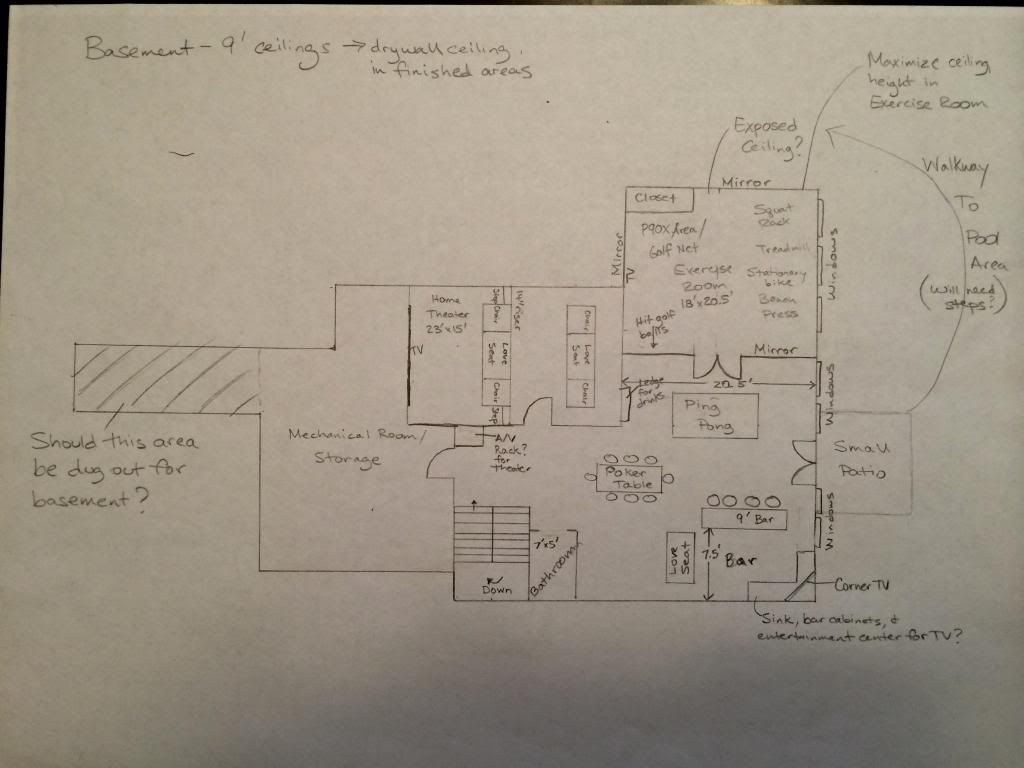 Here are our main and second floor layouts for reference.
main floor
second floor