Water leak - Richmond needs to fix, need advice
We have a relatively new home - 2010. We noticed some water (a little pool; not just dampness) in the back corner of the unfinished walkout basement (diagonally opposite to where the sump pump is). Alerted Richmond and they came out, took the attached pic and said:
"I found that the water was coming in through where the water main comes through the foundation. I have attached photos. I caulked the area and it should take care of it. This will likely need to be checked as part of regular maintenance. Should be caulked every once in a while to keep it sealed. I checked your sump pump to make sure it is working properly and it is. I wanted to be sure that water around the foundation is going where it is suppose to go, and it seems to be doing what it is designed to do."
Since this sounded like a bandaid on a shotgun wound to me, I reached out to a contractor friend and he agreed with me: "Sealing it from the inside is NOT a cure. the foundation will be sitting with water in the hole and as temperatures rise and fall it could damage the foundation."
He isn't an expert though, so I thought I'd ask on here: Could anybody specifically tell me what Richmond needs to do? I realize this could be a variety of things, from adjusting the gutters, correcting the grade etc. Those all look ok to my (very untrained) eye. Of course, grade and gutters don't help much when it's snow melt, right? (Which is when we noticed the leak)
I found a few pics of the house, but it doesn't seem like I can attach multiple pics to this email. Just in case it'll work, here is a link to an outside site with the pics: http://imageevent.com/vanderryst/basementleak
I need to send Richmond a link and tell them exactly what they need to do. Thank you so much for any advice!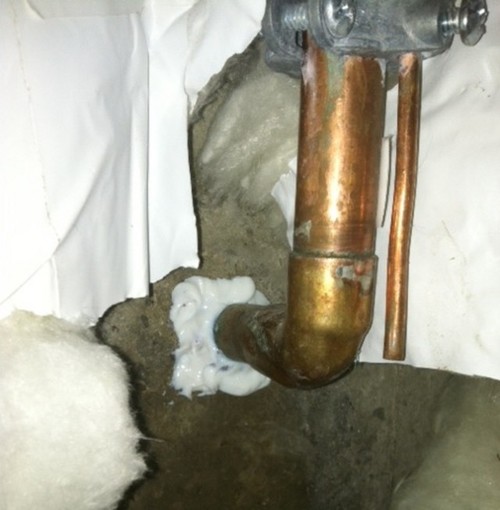 Here is a link that might be useful: Basement leak