Paine Furniture Company Desk
woodsy_1 Zone 5b Illinois
February 10, 2011
I purchased this desk recently. I can't find much information on Paine Furniture Company, and what I can find is leaving me extremely cautiously optimistic.
I know that more information is better than less, so I'm posting numerous pictures. I merged what pics I could so as not to bog things down too much. First, a pic of the desk: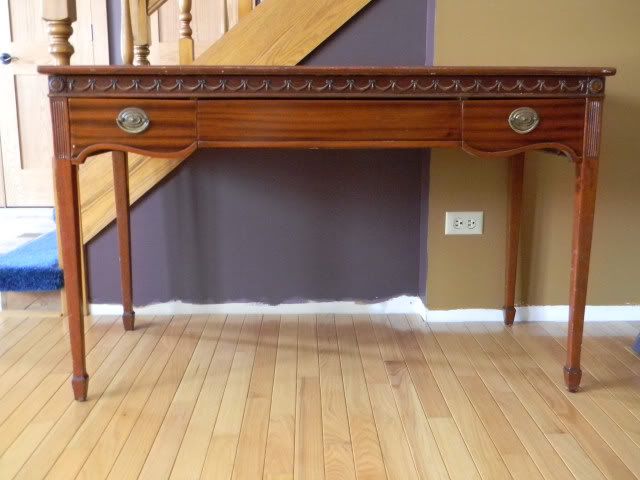 A closeup of the dovetails. You can also see that the drawer fronts are made from a solid piece, no veneer: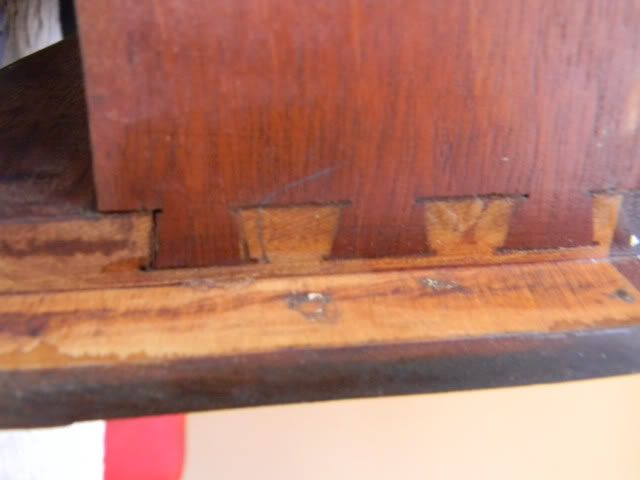 Some detail shots. The manufacturer's label, which is made from a different wood and inlaid into the drawer side. The hardware, which is very thin. A detail pic of the carvings, which appear (possibly) to have been done by hand. Finally, the fittings in the left side drawer.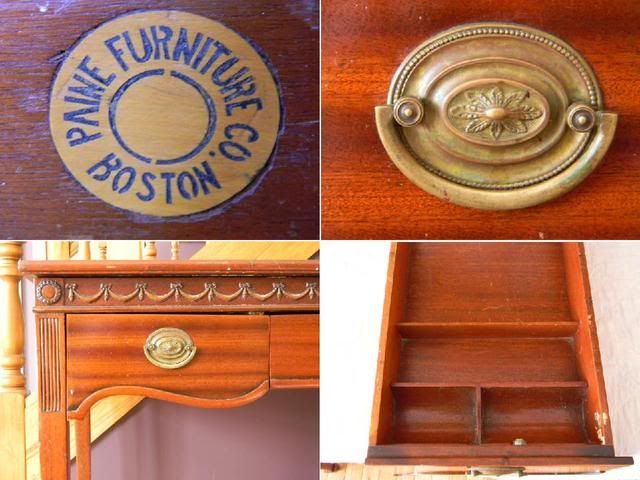 Pictures of the top, which is quite honestly a mess. Thankfully it's solid, with no veneer. Upper left is a pic of cigarette burns that are on both sides. These are the worst of the bunch. Upper right, a dowel plug of which there are two, a few inches in from the sides along the back. Lower left shows another patch that goes completely through the top. Again there are 2, about a foot in from the sides. There are screw holes in the back of the desk directly below the patches. Lower right is a bad picture of the top. If you squint, you can see the patches.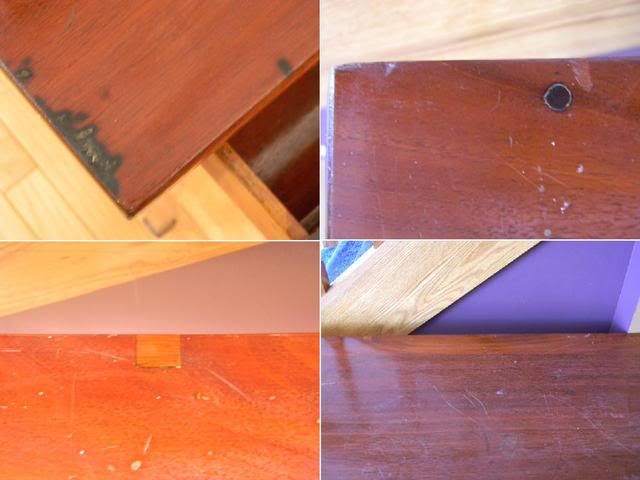 I tried to get a good picture of the finish, but I couldn't. The seller said he had a furniture refinishing business in the past, and the thing to do would be to give it a coat of poly. Yikes! He also said his wife had redone the desk in some way. I fear it has poly on it, which looks like it was rolled on. Double yikes!!
All of that said, how should I treat this piece? If it has any value whatsoever, I'd like to maintain it. At any rate, a more period appropriate finish is definitely in order. I need to know what period!
On to the patches. I'm pretty sure there may have been a top piece of some sort. Would have that have been original or some rigged-up add-on? What might it have looked like? We'd like to build a piece for the top and want it to be appropriate. I wish sometimes I wasn't such a purist. Life would be so much easier.
Thanks in advance for any information you can share. I should mention that I only paid $35.00 for this desk and will use it in my living room, so I'm already ahead. I just have a weird thing about knowing the history of things.