Can you guess what this is?
moonshadow
January 24, 2010
Because I don't have a clue and it's driven me crazy for a very long time.
Had a chunkier candle in it when I got it, but I doubt it's a candle holder. (Unless there was at one time an inner piece that a standard candle would rest on. No wax residue tho.) It's not a vase, inside is hollow clear through to the bottom. Sort of looks like it could have been bottom portion of a lamp, but there's no hole coming out of base to accommodate wiring. And it would be one very small lamp. ;)
If you look at the pic of the interior view from the top, there is a worn band on the inside, about 1 1/4" from the top rim, as if something rested down in the copper and made constant contact at that spot.
It's 7" tall.
4 3/4" wide at the base.
2 1/4" wide at the top.
Top portion is copper.
Bottom base is brass.
Band between copper and brass and ornamental 'arms' are same material. At first glance looks like old pewter, but it's too heavy and hard. Maybe brittania metal?
A magnet does not stick to any parts of it.
The top of each ornamental 'arm' is screwed into the copper. Bottom of each ornament 'arm' is screwed into the brass base.
It was probably meant to be stationary, carrying it by the 'arms' is awkward, I'm unable to get two fingers between arm and base.
Here are pics.
Front view: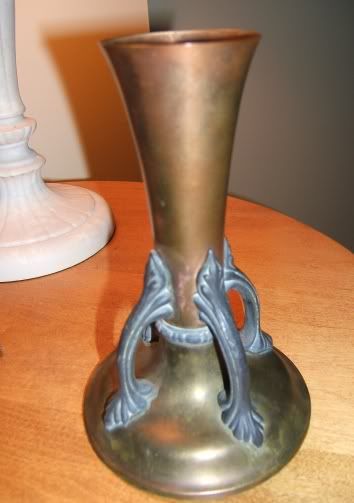 Looking down inside the top, that darker worn ring area I mentioned earlier can be seen. Further down beyond that are screws holding top of ornamental arms.
Bottom, looking clear through inside to top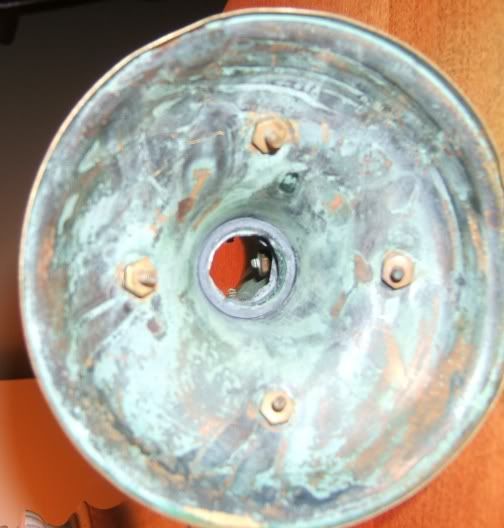 Angle view of screws securing 'arms' to base: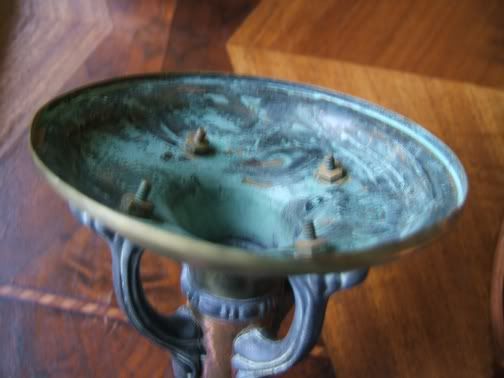 Close up of screws on the bottom
Next to a standard size spice jar for proportion: